Say welcome to new F-trend logo
---
Today we are launching a new F-trend logo, as we start to re-brand our logo seeing how the future will use AI and trend forecasting will heed a greater level of transformation.  
We admired our old logo, and look, and know many felt the same. Our first logo was created before the company began. It was playful, and the wave-pulse resembled the same character that you see in our service offering. 
It was also extremely easy to get confused with other companies logos, and icons such as network signals and wifi symbols.
We are not changing our logo just for the sake of change but we see it solve our future goals. The most significant reason for the change is making it more distinguishing as our previous logo was not as distinct as we wanted. 
F-trend New Logo- connecting big and small dots
It uses a simpler two-colors black and dark orange dots, and we believe, it is more polished, but still embraces the essence of the original. It's an evolution and one that we can scale in the future, and work better, in many more places.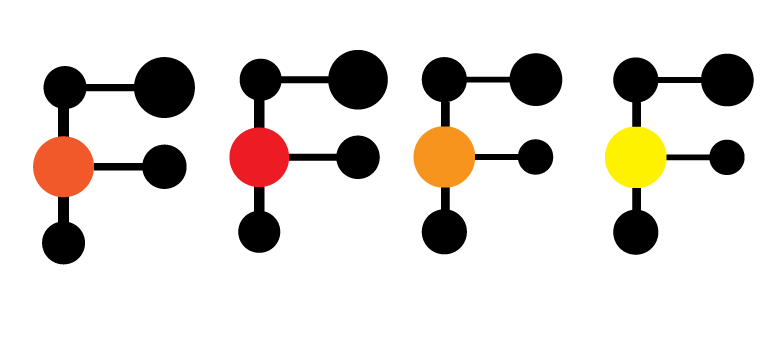 F-trend welcomes a new logo with five dots 2 big and 3 small dots forming the "F". "F" stands for the future and fashion both. Big and small Dots in the logo signify connecting the Mega and Microtrends in the fashion industry through the use of AI. 
Over the next few months, you'll see all the other visuals around F-trend aligning around this new direction: on the website, in advertising, and some places in the product. It's still us. We're still F-trend. But more consistent and, we hope, more instantly recognizable.
About the F-trend
F-Trend is the authority for news and trends in the worlds of fashion and retail. We provide the most comprehensive coverage anywhere of fashion trends, design analysis in Apparel, denim, swimwear, and more than 14 clothing categories, and retail news and is the leading destination for all fashion week updates and show reviews. F-trend is continuously innovating and bringing up the Global fashion trend as well as the consumer research that helps to form the Next big Mega-Trend. 
Images