Future of utility fashion in 2020/21
Summary
In 2019 Utility fashion trend was making a strong appearance at the street and on the catwalks as well. Utility fashion appears in two significant style variations from utility vest, cargo, utility shorts, utility shirt, and utility jackets. Streetwear fashion is craving for the utility vest style among adult and youth women and men buyers.
Since after the global pandemic, in 2020 situations has been changed the biggest clothing category affected is the utility fashion and the activewear market.
The reason for the emergence of utility street fashion is due to an outcome of the lifestyle change induced by the roving lifestyle. Nomadic mindset consumers are invariably on the transit and they don't want to carry additional heavy bags. 
The trend evolved in numerous application into different clothing categories such as bottom-wear as a cargo, sports jackets, shirts, knits, and vests. Utility vests are the top-performing category as spotted during the men's 2019 catwalk season Spring-summer 2020 and at the streets of Milan, London, Paris and New York. 
The new inclination driving millennial's about exploring the world has developed a new cultural change we could call them the Modern Nomad. The sharing-economy trend has helped people to migrate, visit distinct regions and encounter unique things. This has motivated businesses to come up with new marketing modules to support these travelers to share things rather than owning it. 
Based on our Forecast Modern Nomad we have observed the growth of two types of hippies. Currently, people are turning into digital nomads and health-conscious travelers. Millennials find it pleasant to work from anywhere and at any time or they look for the adventurous journeys. 
1- The percentage of Boomers saying they travel to relax and rejuvenate jumped from 38% to 49%.

2-Seventy-four percent (74%) of employed Millennials with paid time off expect to bring work along on a trip, compared to 56% of Boomers. 
Health-conscious travel is on the rise and several travel companies are proposing new offerings for tourists to support their well-being on the road. 
This is not shocking when you consider the growing trend of health and wellness in general – for example, over 50% of Americans are now getting the recommended amount of exercise per week. In response to the growing demand for health-conscious travel, Intrepid Travel is adding six new cycling tours to their existing range next year, including in Bali and Peru.
Desert and Ultra sport seeker travelers are springing, for such people to support the shift in lifestyle there an amazing search for the technical, functional and utilitarian styles. Layering, legging, fastener, cable, and buttons will solve the design.
Lifestyle demands will further take new forms and shapes while designing the collection. Pockets detailings will be transformed into an essential part of the design development. The idea will spin throughout to present the pockets look valuable as well as it should supplement the creative exaggeration. 
Key Takeaways:

 - Due to their function and purpose, work clothes have been the fashion industry's response to a call for authenticity
 - Working people – especially commuters – showing an interest in clothes that are appropriate for any occasion at any time day.
 - Younger generations translating this trend by wearing corporate logos and uniforms.

 
Lifestyle utility vest fashion
Cargo pants were a top-moving style in both US and UK luxury market in January; we anticipate this will impact successful styles in the quantity and value markets. In the preceding three months, we've recognized a 27% increment in cargo jackets in the UK & US combined. 
Alongside cargo, technical outerwear, utility vests, and backpacks are all key to driving this outfit. Despite, don't disregard, the devil is in the (functional) details – we can't get enough straps, toggles, patch, and zipper pockets! 

Recent men's  Spring-summer catwalk 2020 trend reports there is an uptick in utility vest fashion demands based on our street trend analysis. Designers are coming with the detached pocket style for the shirt and bottom wear clothing category as spotted during the Palm Angele's show at Milan city. Pocket as a cloth is maturing as a brand-new category that arises in many unique and exotic modifications.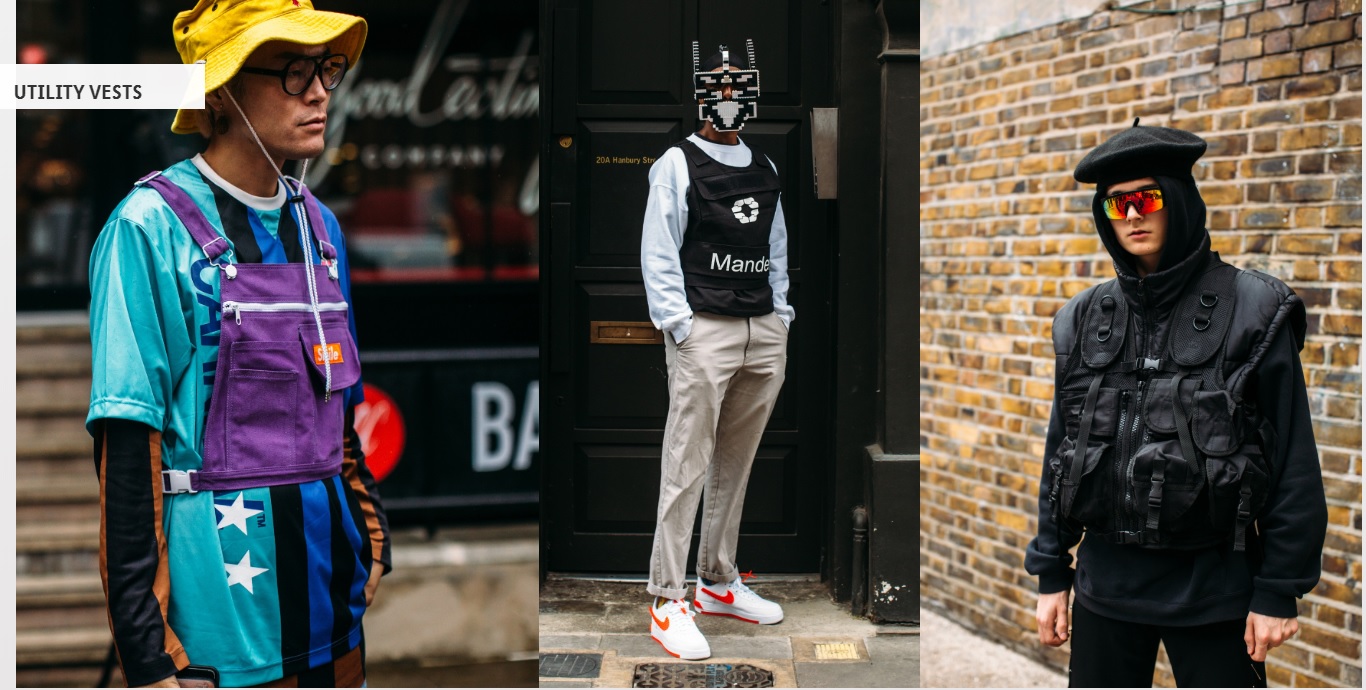 Utility vest streetwear fashion also picks the trend rapidly this season, as we have spotted during the Paris and Milan and London streets. The success of the trend is attributed to the creative placement of pockets. Many designers have come out with diverse concepts to help people carry mobiles and other essential items with comfort at the street .
Activewear utility
Utility fashion maintains the growth to the activewear market, actually, it started to grow into a must-have detail for the activewear jacket where pockets become a necessity with an option for the Ipad and the big smartphones as well as other electronic gadgets as digitals nomads find it helpful to support changes in their lifestyle. 
Detached Utility
Utility fashion trend is metamorphosing toward a new category, where designers have formulated pockets as cloth, detached pockets, and detached pocket-bags are a fresh item to sell them seperately. The trend could be examined in the collection of Palm Angles where he connected the external pockets on leather shirt and bottoms.   
 
Bag as cloth
Backpacks are getting translated into a cloth bag that is stylish and has a practicality as well. You could imagine a bag cloth to carry your smartphone, Ipad and water bottle.
Utility in active-wear
Utility detail could be heeded implemented in sports jackets, tailored blazers, and shirts.
Detached Pockets
Detached pockets are another way to creatively add the utility element into the clothes as could be seen in Prada and Palm Angele's collections for the shirt and sports jacket. 
Utility Vest fashion trend
Utility vest fashion trend marked a comprehensive 22% growth during Men's spring-summer 2020 fashion week in Paris, Milan, and London. Based on Google trend data interpretation, May-July observed a great acceleration in demand.