The Rise of Men's Feminine fashion trend in 2023/24
Summary
Are modern men re-defining men's fashion trends and masculinity? read the article to know how feminine fashion trend is rising in 2021, from earring to pink shirts, girly bags, bra tops, skirts, and camisole tops? Are we ready for this trend?
It is not always women adopt the men's fashion to add the sense of masculinity, during the Men's Spring-Summer 2022 catwalk we have spotted transformation of masculinity into a feminine menswear trend more than ever similar to the girly style. Men's 2019 Street trends show a glimpse of feminine male, anchoring the ground for the future male fashion.
Men spotted carrying feminine long Hairs, skirt(kilt), pink girly bags, bra tops, and camisole inspired top-wear fueling a new men's 2019 street trend that is visibly influencing the modern men's look and perception.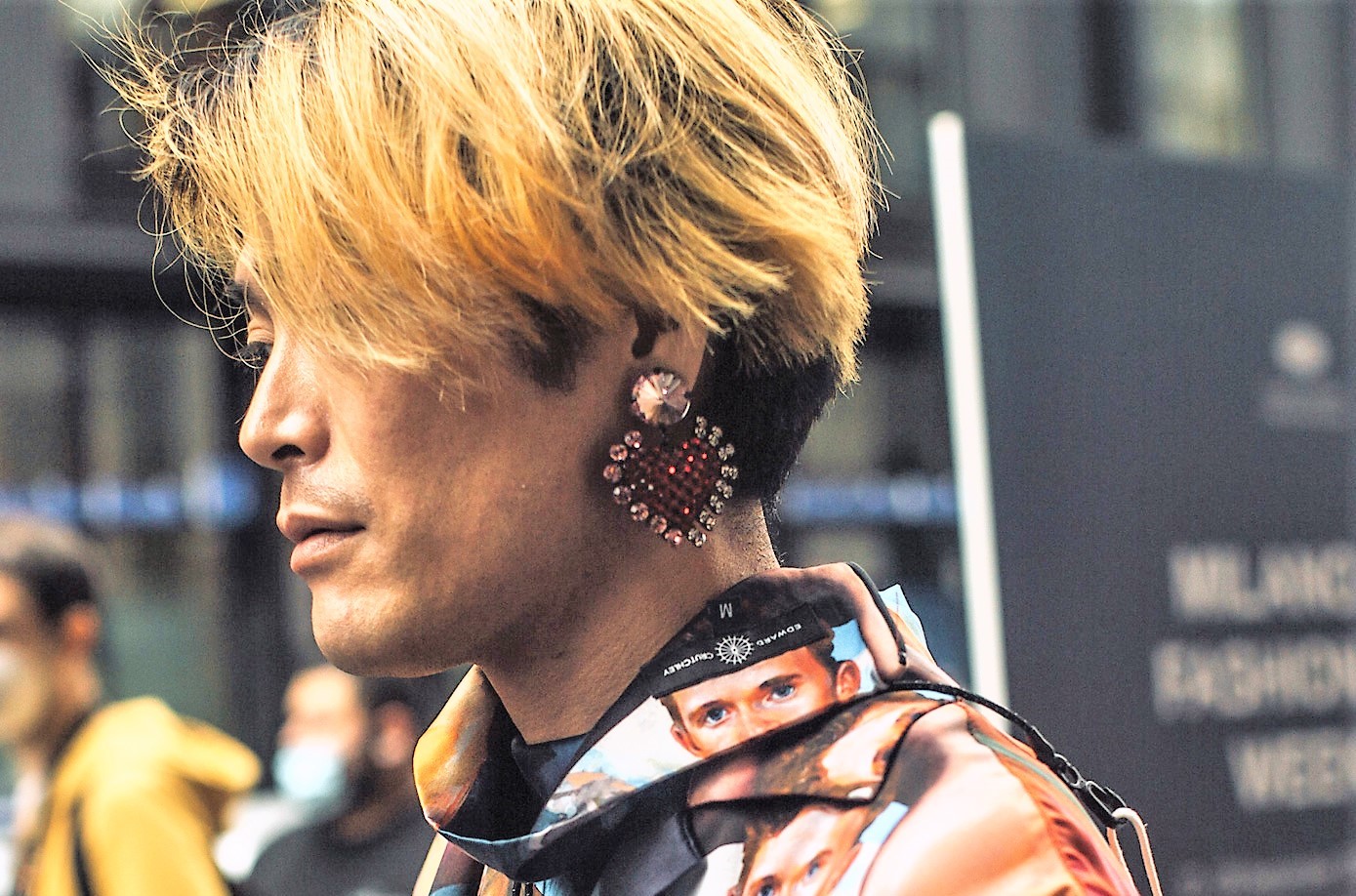 The Paris and New York streetwear trends 2019, Men's Feminism is on rising. Men's urban fashion trends is all about the feminine top, corset, girly looks is the rise of male androgynous styling. The trend could also be termed as "Girly menswear".
Traditionally it is essential to practice men are supposed to be tough, dominant and shouldn't cry. Expressing deep emotions are considered not a man thing. While in a similar way women were supposed to be extreme opposite to men associated with the soft behavior, less dominant and a homemaker.
Globally things are changing, women are turning into alpha-women, now they are participating in contact sports, boxing, and basketball games, challenging the men's dominance in different areas of lifestyle is forcing men to adopt with the changes. While girls were taught to be more fluid men are considered to act like men. 
Sensitivity was never a part of the male attitude while women's identity was always associated with being highly sensitive. Dressing like women could be breaking up the stereotype by communicating message men could be also sensitive like women.
Toxic Masculinity 
According to Wikipedia- The concept of toxic masculinity is used in psychology and media discussions of masculinity to refer to certain cultural norms that are associated with harm to society and to men themselves.
Self-reliance and emotional oppression are correlated with increased psychological problems in men such as depression, increased stress, and substance abuse. Noxious masculine traits are characteristic of the unspoken code of behavior among men in American prisons, where they exist in part as a response to the harsh conditions of prison life.
Other traditionally masculine traits such as devotion to work, pride in excelling at sports, and providing for one's family, are not considered to be "toxic". The concept was originally used by authors associated with the mythopoetic men's movement such as Shepherd Bliss to contrast stereotypical notions of masculinity with a "real" or "deep" masculinity that they say men have lost touch within modern society.
Men will be Men
Societal traits made men Naturally dominant, along with related traits such as misogyny and homophobia, can be considered "toxic" due in part to their promotion of violence, including sexual assault and domestic violence. The socialization of men often normalizes violence, such as in the saying "Men will be men" with regard to bullying and aggression.
The effect tends to be stronger in men who also emphasize "toxic" masculine norms, such as self-reliance, seeking power over women, and sexual promiscuity or "playboy" behavior.
Psychological Impact
According to The American Psychological Association "traditional masculinity ideology" has caused adverse effects on the mental and physical health of men. 
Men who adhere to traditionally masculine cultural norms, such as risk-taking, violence, dominance, primacy of work, need for emotional control, desire to win, and pursuit of social status, tend to be more likely to experience psychological problems such as depression, stress, body image problems, substance abuse, and poor social functioning. 
The above social traits where men have become the victim of impractical expectations especially the time when femininity has also experienced the changes, it is time to re-interpret the meaning of modern men. 
Men's concept of beauty: Beauty vs Skincare
According to Allied Market Research Men's personal care market is expected to hit $166 billion in 2022.
Nearly 40% of adults aged 18-22 have shown interest in gender-neutral beauty products, according to NPD's iGen Beauty Consumer report.
Male-targeted skin-care product sales have jumped 7% in the past year, NPD said. 
Recent data suggests the new generation of beauty consumers prefer a non-binary approach altogether. According to NPD's iGen Beauty Consumer report, nearly 40% of adults aged 18-22 have shown interest in gender-neutral beauty products. Based on Euromonitor, more than 56% of U.S. male respondents admitted to using some sort of facial cosmetics like foundation, concealer or BB cream at least once in 2018.
Chanel launched boy's makeup line last year where the Diving into the swelling men's grooming trend, The product range includes a tinted fluid, coming in four colors; a matte moisturizing lip balm, and four shades of eyebrow pencil.
"Regardless of generation or age, these days, men are invested in their appearance to some degree," said Brendan Gough, professor of social psychology at Leeds Beckett University. He has been researching the behavior of men in the UK for over two decades and says attitudes toward appearance have changed dramatically.
Since men are facing challenges with the rise of women empowerment, Gen-Z consumers men are molding their attitudes and behaviors as well. Makeup is now becoming an essential part of the men's daily grooming. For men, makeup is part of skincare agenda not to look beautiful.
In the western market "Not so many years ago, the moisturizer was a taboo, and it's now commonplace," Gough explained. "Makeup is one of the last bastions of femininity that men are encroaching upon," alongside other areas traditionally dominated by women, such as cooking and childcare. 
Men's feminine dressing
Generation Z is our next generation, they will be responsible to define future masculinity. The youth male celebrities Jaden Smith and Lil Uzi Vert, who sometimes wear skirts or blouses they're so much more progressive and open, sexually fluid and gender-fluid than millennials are. "They're now rethinking what masculinity means, what it means to be a guy, and painting your face or using skincare doesn't make you any fewer men"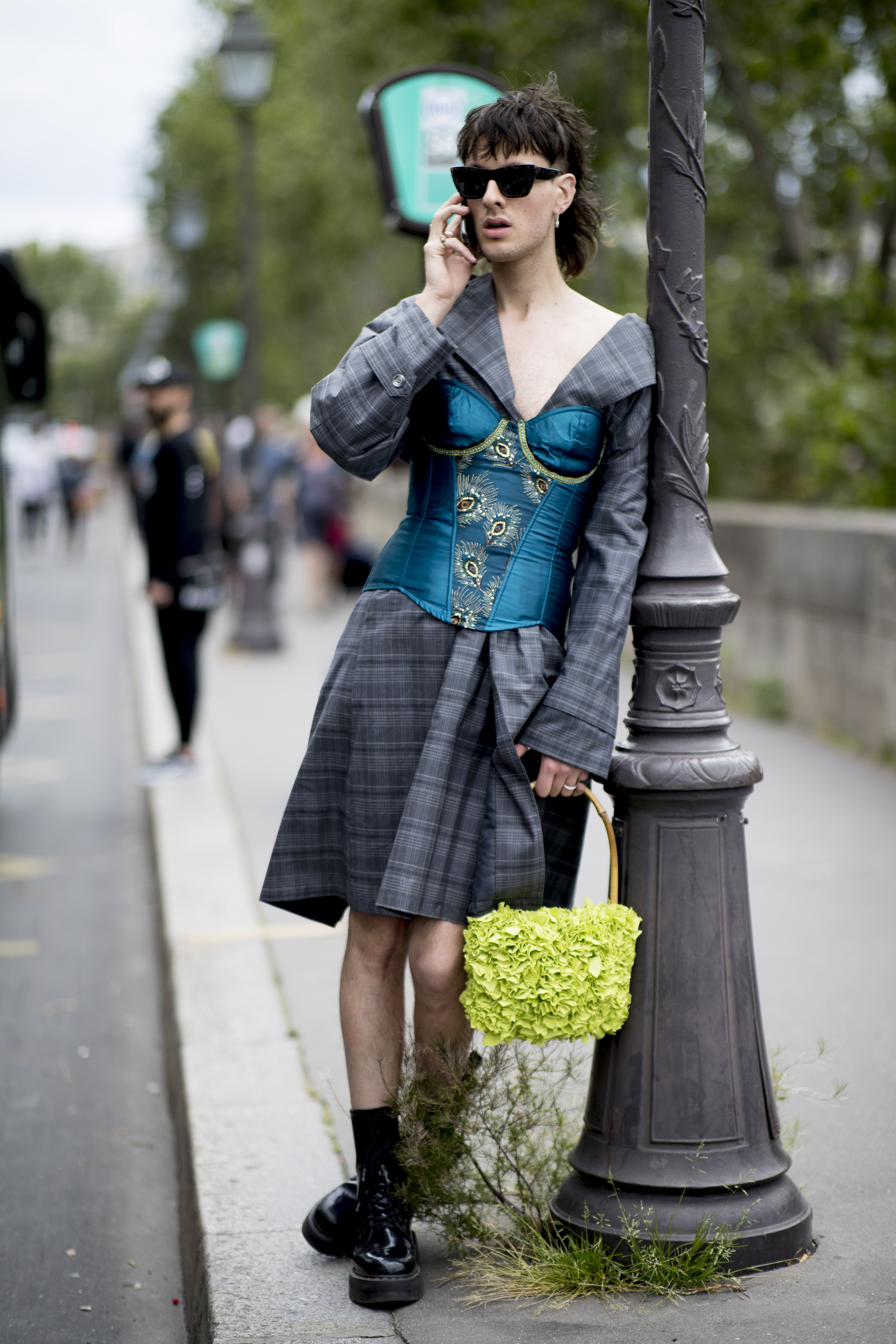 Are modern men re-defining the masculinity, from earring to pink shirts, girly bags, bra tops, skirts, and camisole top? Are we ready for this trend? Add your view?
Men's lace shirt spotted at S/S 2021 runway
First time In 2014, Calvin Klien presented the Men's lace intimate wear, while during the time it was a very fresh idea that didn't pick up. Yet again, at the S/S 2021 runway, Koche brings back the memory in a more refined and effective way for modern feminist men's style.
Rise of pearl jewelleries in 2021 for feminine men
Pearl jewelleries emerged as the biggest trend at the S/S 2021 runway as well at the streets. The trend first started to get popularity after Harry Style spotted wearing the pearl necklace to promote the men's femininity.   
Gold jewellery trend in 2022
Mens Feminine High heel boots
Van Beirendonck's 2022 spring collection focused on redefining the men's footwear that is quite feminine, with high heels in bright colors. Since men are changing their values, attitude, and behaviors now, they are learning to accept the little feminine side of men.