Antar-Agni showcases 'Disquiet' at Lakme Fashion Week x FDCI | SS'23
Summary
The 'Antar-Agni' label by designer Ujjawal Dubey, has created a fashionable stir each season and struck the right style notes when the collections for men and women have been unveiled.
For the Lakmé Fashion Week in partnership with FDCI, the label presented the 'Disquiet' look that projected a gentle, quiet movement of style and elegance. The fabrics that were brought to the forefront, included cotton silks, cotton, Bemberg, and hand-woven cotton that added the required flow and feel to the garments.
Key Colors- The colours stayed true on the serene path, as calm whites swayed gently with ivory, mud green, mint, and finally black. The silhouettes were fluidly structured with the label's signature pleats and drapes that pushed the style directions onto a higher plane. The organic surface ornamentation added to the positive vibes of the collection that had a marked gender-fluid quality, which will appeal to both sexes.
Key Details- Micro detailing played a major role in enhancing the surface texturing of the classic kurtas, shirts, and gender-fluid robes for men, which could also look great on female models. Giving special emphasis to women's wear, the butterfly-sleeved, cropped blouse was an impressive entry. At times, the asymmetry that appeared for silhouettes and hemlines projected an almost seasonless appeal to the line.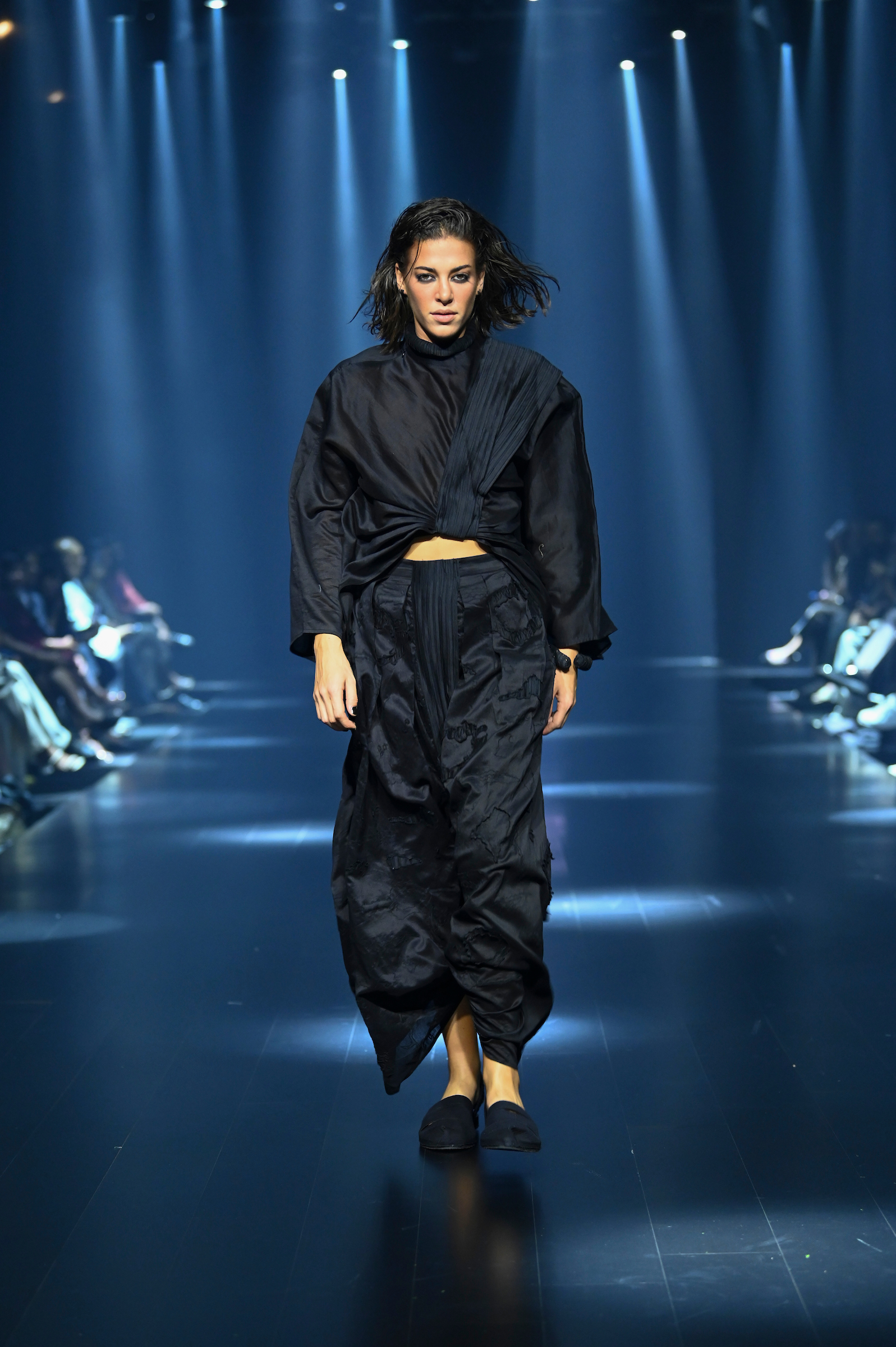 Adding to the style quotient further, ceramic jewelry by Siraj Saxena was the ideal choice that helped to accessorize the collection.
The 'Disquiet' line by Ujjawal Dubey for his label 'Antar-Agni' brought a striking fashion story that enhanced the creativity of the garments onto a different sartorial level.
Ujjawal Dubey, Founder, Antar-Agni said, "I continue to be super excited about 'Disquiet'. It is a collection that is very close to my heart. This was our first show in Bombay after the pandemic and also marks Antar-Agni's foray into a new language while also cementing our old values."