9 Must have Spring summer 2020 color trends from Catwalk.
Summary
F-trend brings our brief and most accurate Spring-summer 2020 color analysis from the Paris, London, New York, and Milan fashion week January 20 – 23: Paris Haute Couture Week 2019. The report is useful for commercial purposes as well as for those who look to update their wardrobe with the most fashion-forward trend.
This Spring-summer 2020 season designers executed with the deeply intense hues as well as the profoundly gender-neutral colors with a reflection of the hippy flavors. 
The most frequent colors appeared on the stage at the Spring-summer 2020 show had soft and warm tones of yellow, intense pink and dusty orange. There were also enough dark earthy tones and cool blues.
While Yellow seemed like the topmost color for the American market, green is the most loved color in Milan. The Parisian designer had mixed emotions that caused them to exercise practically every color in the palette. Compared to the Spring-summer 2019 season green exhibited at the show was flat and natural however few colors of the last year extended to prosper this season as well.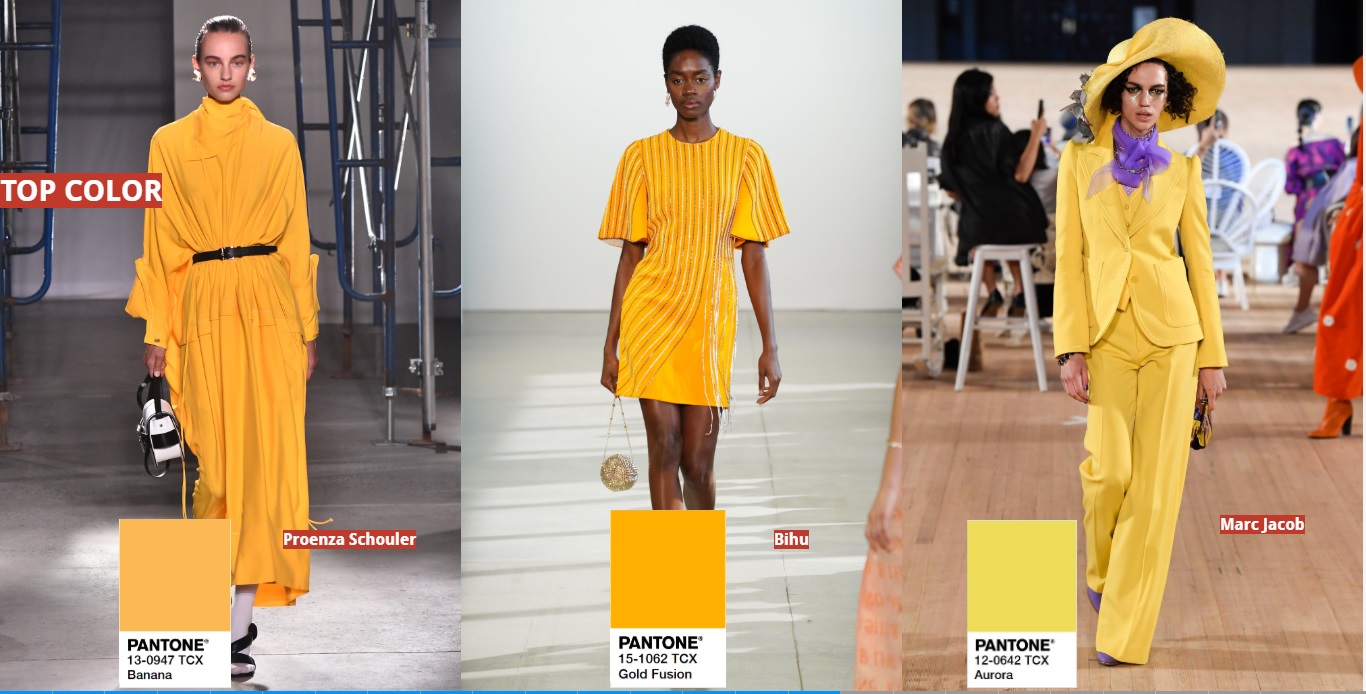 London fashion week S/S 2021 FASHION WEEK DATE- September 19 - 22, 2020 S/S 2020 painted cloths in green, pink and yellow shades more frequently including the dark earthy tones. However, hot pink and yellow are the top-performing tints for the season. London's influential designer brand Burberry focused chiefly on neutral tones. Jamie Wei Huang and Victoria Beckham rivaled with green tones and its variations.  
Overall globally Yellow, vivid pink and flat green have witnessed the most distinguished upward trend graph, while watery cool blue is the next emerging color for the Spring-summer 2020. Orange was the most prevalent color in the last few seasons, however this year it was updated to a warm burnt tone rather than the brighter hue.
For a women's blazer designers picked light and delicate tones. The top Pantone shades for a blazer are Vanilla Cream, Sugar Swizzle, Rose Shadow and delicacy.
Pink is still here and it is in a more diverse range of hot pink as spotted in the Badgley Mischka's mono shoulder dress while Tom Ford promised to make it functional for the office going, powerful women.
Since the last few springs yellow is staying in the designer's selection, this catwalk season it is a dominant color choice of the many influential designers. The designers were looking for a little sunshine to call off the gray that has been on so many minds of late, or perhaps a ray of hope glanced through to remind everyone there is more to life than 24-7 news feeds and political unrest. 
Cool blue is a fresh update of the spring-summer 2020 season next to the mint green. Gradually it is advancing a way to the retail for a very soothing and calming behavior. The color is essential to sporty and a few other product categories like blazers and loungewear as well as boudoir market. 
In New York, Khaki and army green were employed to a diverse product category like Trench coats, jackets, soft fluid dresses, and skirts. The top designers lauded for 
Orange Pink and Apricot orange are afresh emerging colors of the season.
Yellow is the most exciting shade of the season applied on the dress, bottom wear, and tops category. Almost used by most of the designer. According to our analytics, more than 5% collection spotted in yellow and its shades.
Pink is the second most popular color, it gets updated with the Pink Peacock, very-berry, and Pink sorbet.
For the women's blazer, soft pink spotted in rose shadow.
Army green and Khaki colors are another top trending hues of the season after pink.
For the outerwear, the popular colors spotted of the season is Avacado, Olivine, Capulet Olive and Garden Green.
This season extreme light pastel colors emerge as a key color for the women's formal wear like Blazer and jacket.
Rose Shadow and Pink Peacock is still popular color as compared from the last season. 
Quick Spring-Summer 2020 color trends from the catwalk-
Pink Intensity
Pink is the most popular color spotted globally in deep tones of pink Pantone Raspberry Sorbet for the various clothing categories of dress, and blazers. It was found on silky shiny or cotton and organza fabrics. 
Acid Lime- fresh and commercial
Pantone Acid lime is an update in Green palette applied on Shiney leather and Polyester material.
Yellow Spear- a calmness of yellow.
Yellow Pear spotted at Milan and Paris fashion week S/S 2023 Mens fashion week - June in the collections of Akris, Boss, MSGM, Blumarine, and Angel Chen. While at New York Golen Yellow Fusion, Aurora and Lime yellow.
Copper Metallic and Lithium Luster.
Paris has seen Copper metallic and Lithium Luster a most noticeable trend presented by Y-project, Valentino, Hermes, and Louis Vuitton during the show for blazers and dresses. Lithium Luster rapidly mounting as one of the commercially important colors for the Leather fabric.
Start the discussion by commenting and sharing your feedback in the comment box below..