10 Spring summer 2023/24 print trends to dominate
The report analyses the 2022/23 print trends for the men's and women's market based on the recent AW 2022 catwalks and the consumer analysis we have been observing from the past few seasons and its influence on the emerging desire for new prints and patterns colors implications on design developments.
Consumers demand
A present desperate desire to get away from the upside-down world and re-set the life from where we left before the pandemic happened is a most intense appetite for the time. There is a growing radical optimism to transform everything, the present world, and controlled emotions. 
To fight back against the circumstances and bypass the present chaos like the Ukrain war and the Covid-19 there is a new modern wanderer consumer group arising from those who are not willing to return to office but rather opt to work as a Digital Nomad or resign from the work.
Based on our consumer trend forecast for 2022/23 childhod nostalgia, beach camping, 90's street culture, picnics, and farm memories are in demand for many.
Retro sport patterns, lines, garden flowers, picnic fruits, and tropical prints are most widespread during the AW 2022 catwalk shows.
Re-rise of retro Geometric patterns-
For the men's and women's fashion classic business plaid and lively bright plaids exhibited growth during Paris and Milan fashion week January 20 – 23: Paris Haute Couture Week
Plaids continue to get revised to the colorful interpretations for the S/S 2022 and AW 2022 seasons. We are expecting to see a very commercial update for the retailers. Checks at Gucci, Sacai, and Henric Vibscov are very fresh spotted over shirts and jackets in Purple, yellow, and blue color hues.
Generation Grunge- Activist slogans 
People are rising against their respective government policing forming a new consumer group that demands meaningful guarding for the public rights and fewer anxieties. Slogans, statements, and scribbles are very important to print aesthetics materializing in rustic earthy tones like charcoal and earthy brown hues by Givenchy at Paris.
Prints at Paris Fashion week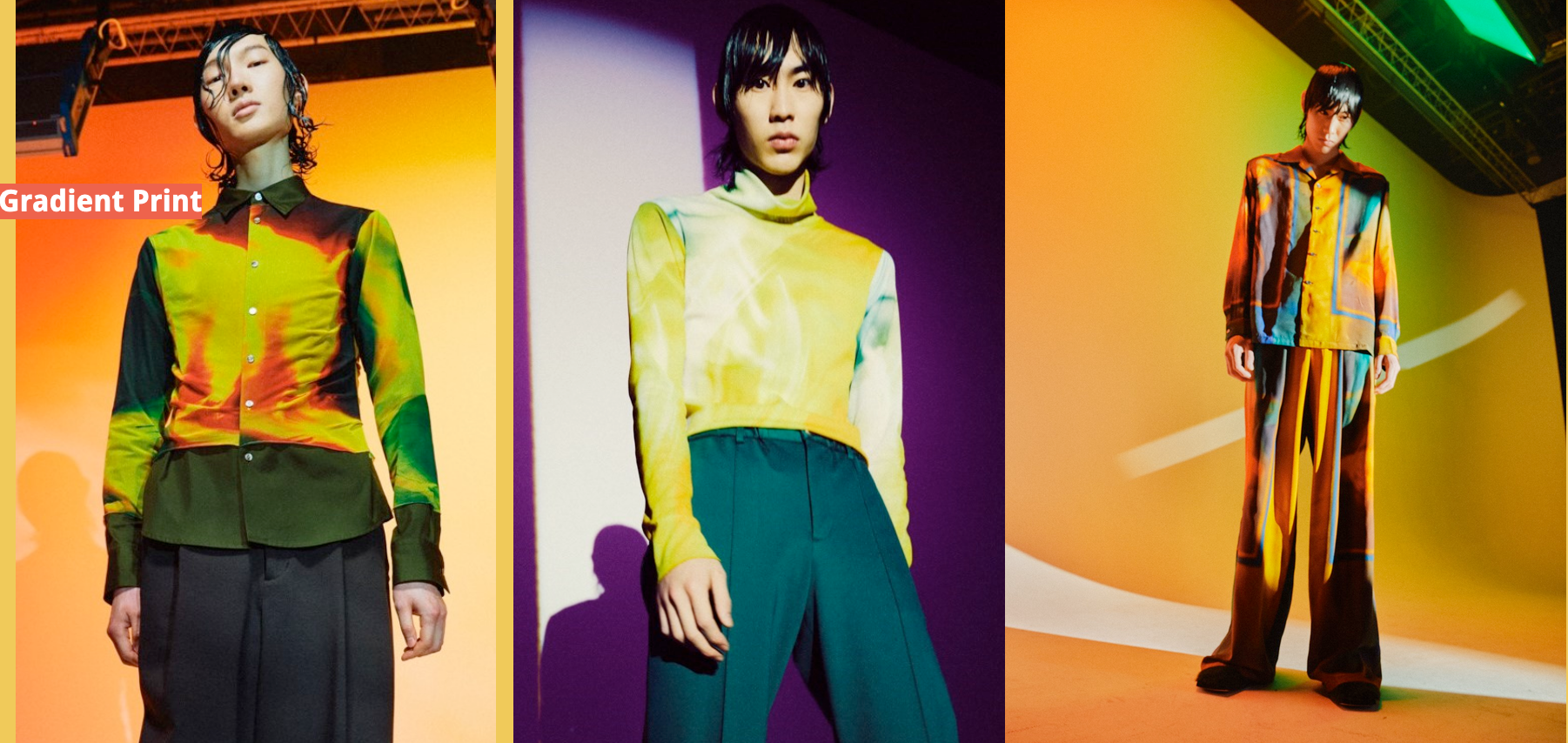 Painting all over the clothes is growing strongly this season. Gradient print continues to gradually develop for the AW clothing categories like sweaters, knits, and Jackets. Visually, sensory patterns are a must-have pattern expected to grow further in the upcoming few seasons. Flowery patterns are to elevate as seen in the Kenzo's eye refreshing collection.
Gradient prints by botter, plaid by Chanel, Christian Dior and Victoria Tomas, Scenery print by Chloe. 
DVN offered traditional micro curly prints, cow camouflage, and animal patterns.
Classic Pastoral and animal prints by Giambattista Valli, 
Sacai, Victoria Tomas. Colorful vertical stripes by Kenneth Ize. Spray Prints by Ninamounah.
London fashion week

S/S 2021 FASHION WEEK DATE- September 19 - 22, 2020
Conner Ives presented outdoor scenery of trees, evening sun, and a beautiful vacation kind of looks, along with the playful statement prints.,
Matty Bowan Presented scenery applied all over the sweaters and jackets, paintbrushes, and logos for his AW 2022 Youthful and grunge collection, satisfying the consumer's desire for activism.
Milan Fashion week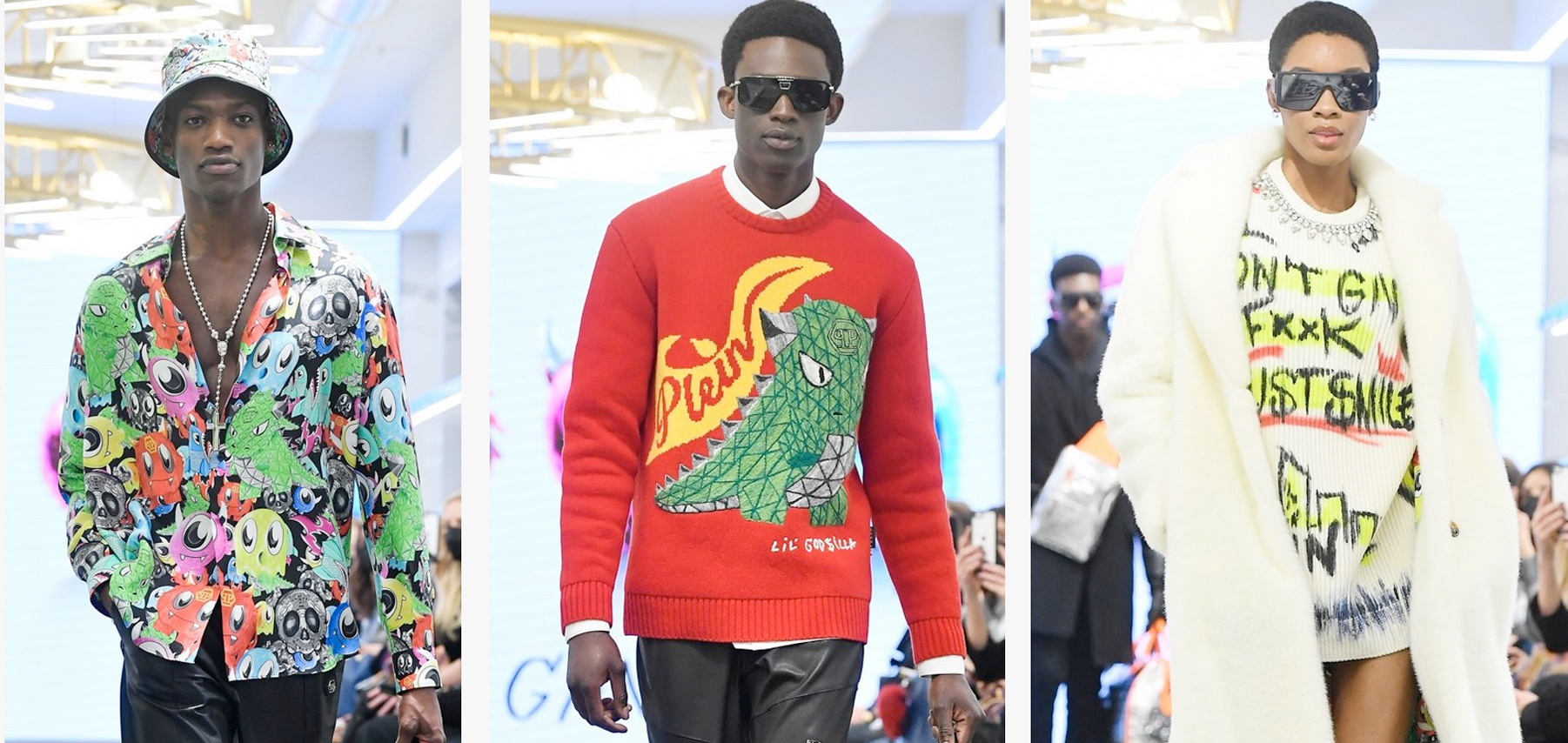 Dolce and Gabanna prints are for consumers' desire for childhood nostalgia through Bunney cartoon imprint and the playful big brand logo. Elisabetta Franchi and Gentile Cantone added the floral design while Emporio Armani responded with the Marble crack prints, and Etro's Nomadic collection has animal prints.
Ferrari's abstract fluid patterns in a bright color, Gucci's classical plaid and check pattern in multicolored variations along with a few classical retro hues are a few highlights of the season.
Hui's prints inspired by china and traditional checks carrying the ethical charm in shining colors for those who desire something classical is surely a great addition to 2022 prints. 
Jil Sander offered the unique handmade pencil sketch pattern of animals and flower patterns as a fresh idea of the season.
R13's grunge-inspired collection had logos, flowers, and checks in dark background tone colors for youth consumers is a powerful statement supporting the sentiments for the antifashion look of the season.
New York Fashion week
Coach collection attracts young market via his street fashion looks and skater boy guesture in Paint stroke on baggy pants and T-shirt Logos pattern is very reenergized addition for S/S 2022 and 23 season. Similar kind of pattern we spotted on Custo Barcelona's cutout isnpired sweat shirts and tops.
Jason Wu's blurred floral pattern continues to grow from the last Spring summer 2021 confirms the importance of these prints, while Duncan and Dur Doux updated the classic checks and plaids yet another time in highly vibrant variations.
This report collects classic elements from A/W 22022/23 menswear runways. British business style, monogram, and argyles have trended upward a little bit, as bright plaids, geometric patterns, and Fair Island motifs reveal a descending trend. Louis Vuitton fused its brand logo with florals on A/W 22022/23 runways. Besides, commute monograms and floral elements are also taking on an increasing momentum.
Check out these print trends that will dominate in AW 2022/23 and S/S 2022/23
Checks and Plaids
Check and Plaid pattern got updated to the multi-colorful blocks of red, green and blues. This makes a very vibrant update as seen in Sacai and MSGM collection.
Grunge Pattern
Paint brush strokes, Murals and Graffiti is growing as seen in New York, Paris and Milan fashion week January 20 – 23: Paris Haute Couture Week .
Outdoor Scenary
For Autumn winter 2022/23 scenary pattern is the most famous one. Spotted at Milan, Paris, New York and London fashion week S/S 2021 FASHION WEEK DATE- September 19 - 22, 2020 .
Gradient Patterns
Gradient pattern has been developing from last few seasons for men and women markets. We are expecting it to further grow and become a very promising print trend in 2022/23 season.