Top tech trends helping beauty Industry to grow customers globally in 2019
Summary
Technology has begun to eventually spread its roots to the Fashion Industry and has now knocked on the door of the Beauty Industry as well. From Digital chatbots to digital shade finders, and smartest beauty products here are some of the products setting a benchmark for the digital beauty revolution. Online customer experience is essential for the brand's success especially when the eCommerce industry is growing globally and maturing.

Training customers help the beauty industry to avoid product return and increased loyalty by the use of Chatbot and virtual assistance by implementing AI and AR.

Virtual Try-on Apps are getting popular making shopping through the use of AR is a very easy job for buyers. Numerous brands such as ModiFace capture the face and consumers can virtually apply the beauty products to match the shades before they buy the product.
ModiFace now has augmented reality apps that let you virtually try new hair colors and eye colors. Virtually trying out the latest hairstyles online was never easy. Buyers can just put their phone's camera up to face, then tap away at all the products, looks, and styles that ModiFace has.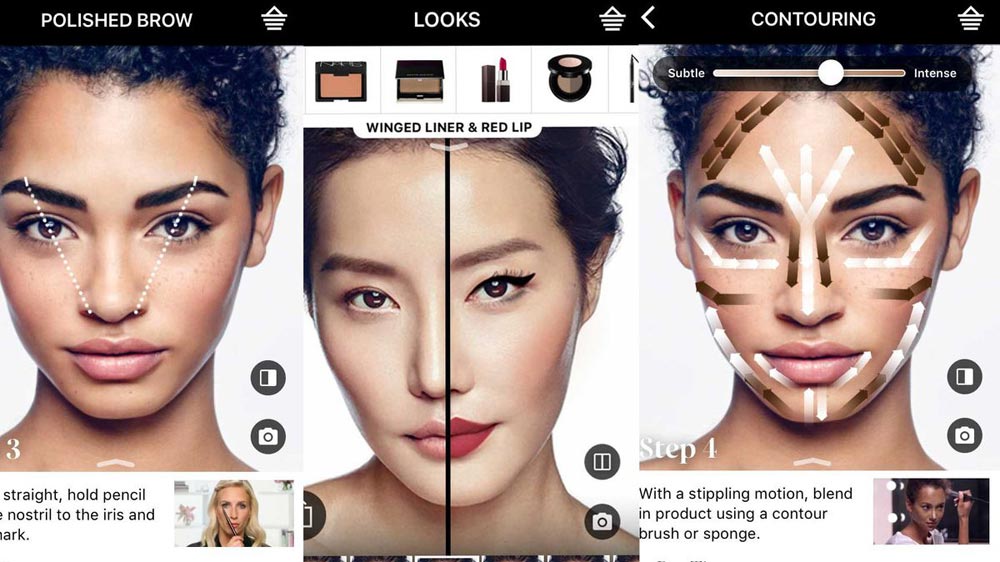 Digital Shade Finders
CVS a pharmaceutical beauty brand is launched the "shade finder" tool is similar to Paint swatches in July at 6,000 of its stores to help customers find the right shade of foundation and concealer across 12 different brands. 
Color IQ by Sephora 
Yet another brand pioneering in the Beauty industry uses Color IQ, which scans the surface of your skin, captures the exact skin tone, and then assigns it a Color IQ number. That number is used to produce precise color matches for lip products, foundations, and concealers.
At Ulta, shoppers can try on makeup using its GlamLab app that lets shoppers browse, filter and play around with products. Target customers can virtually try on hundreds of makeup items, including various lip and cheek colors via a feature called Target Beauty Studio on Target's website. Follow this link – (https://www.sephora.com/color-iq)
Avon – Avon has a new app that uses a mathematical algorithm to help customers take the guesswork out of finding the correct shade of foundation. The Personalized Beauty App allows Avon Products representatives to use a phone camera and a calibration card to match makeup regardless of customers' ethnicity, skin tone or type.
Avon developed the app with color measurement solutions company Techkon, a color measurement solutions company. The app uses math-based color theory to predict an individual's makeup shade and skincare needs. The app has been tested in the UK and South Africa and further versions are in development to work across a broader range of mobile platforms.
Maybelline New York is improving the online foundation shopping experience with the launch of Foundation Finder! Foundation Finder is the first-ever web-based tool that utilizes facial recognition technology to find the perfect foundation shade via selfie without having to download an app.
Digital shade finders have also trickled down to India and many makeups and beauty retail brands such as Nykaa have also installed the feature liv on their website. This feature is also seen in the brands that the retail company endorses. Follow this link –( https://www.maybelline.com/collections/fitme/foundation-match-finder)
Chatbots assistance for hair and skin
1)Estee Lauder– Sephora's Virtual Artist and Estée Lauder's Lip Artist (it's a fifth and final bot, for now) allow customers to try on a wide range of makeup shades by uploading a photo of themselves into messenger. They can either select a shade themselves or use the app's skin-matching technology to get a recommendation for their skin tone. 
2) Professional hair color company Madison Reed has a bot called Madi that offers hair dye suggestions based off of images uploaded by the user. Flawless by Gabrielle Union, a hair-care line that sells exclusively at Ulta, launched a Hair Profiler bot in September that is only text-based, offering hair damage and maintenance tips based on a series of questions.
3) Other bots — including Sephora's Reservation Assistant and Smashbox's bot in the U.K. — help facilitate appointment bookings at local stores.
AI in Beauty Industry
-Vyomo- AI Mobile platform that renders two way services (India)
India based brand Vyomo, a mobile AI platform, renders two way services – for beauty salons and for customers. For beauty salons and Spa, they have SAAS based end to end salon management software that grows their business by covering everything from increased traffic, CRM, ERP, EPOS, Performance Management, Booking Management to Social Media. For end customer, they have on-the-go search, discover, book, pay and rate platform.
Follow this link ( http://click-labs.com/case-study-vyomo/ )
Beauty Devices
Alleyloop is one such company that has made an array of comfy beauty products. Among them is, Pen Pal, a cleverly designed pen that contains eyeliner, highlighter, lip liner, and eyebrow pencil. The Pen Pal puts four common makeup products in one compact, portable pen.
The design idea it borrows isn't new — it looks and operates exactly like the retractable ballpoint multi-pens you might've used in school or the office. There are multiple spring-loaded cartridges housed in one pen, and when you want to use a particular color, you click down on that button.
Click down on any of the other buttons to retract the current color. While the Pen Pal is great for everyday use if you have limited bag or cabinet space, it's especially useful for travel.
Glossier Play 
clearly moves beyond the needs of the no-nonsense, low-maintenance beauty customer, who is content to dab on a bit of concealer and lip gloss, and call it a day. As its name implies, Play caters to people who enjoy tinkering with colors and textures to transform their look.
This may be the beauty-obsessed customer who spends their free time watching beauty influencers unbox the latest products on YouTube. Or it might be the person who prefers not to worry about makeup most days, but wants a couple of more exciting options in their makeup bag for date nights or holiday parties.
Real Techniques Custom Cheek Brush
This amazing brush by real techniques is the best you can get your hands on. The unique quality that these brushes have is a 3-in-1 brush for sheer to full coverage: Level 1 for maximum coverage, Level 2 for medium coverage and Level 3 for minimum age coverage.