7 Key Denim fashion Trends that will dominate in 2022/23
Summary
The Spring summer 2022/23 denim trend will witness direct impact by the Pandemic which surely to highlights the demand for the softer stretchable and supple denim fabrics to support the work from home lifestyle changes while there we will see a rise in sustainability demand in the coming seasons. 
Jean fashion trend will see a roomy style like Japanese martial art wide bottom with free movement arise as a major update in fashion direction.
The coronavirus lock-down stimulated the numerous changes in humans - the continuous boredom leading us to a desire for playfulness, and re-imagining childhood life. The development will drive us to look back into the past and imagine childlike fashion and lifestyle in denim 2022 fashion trends.
Sustainability is developing as an essential attribute in denim fashion since it consumes a lot of water, and during manufacturing wastes produced are very high. The denim market needs to adapt itself to a more relaxed and casual look using soft and fluid denim materials with vintage and cartoon patterns.
Designer at S/S 2022/23 catwalks focused on the importance of sustainable development on negating the impact on the environment and maximizing product value and life cycle. Recycled fibers and low-impact dye and wash processes enhance the sustainability of core products. Reusing denim mixes with the design process will be seen in the design. Creatively upcycling deadstock and recycled fabrics excavate the resale value of conventional practical workwear and retro looks.
---
Denim market challenges post-Corona
The search for holistic well-being and preventive health has accelerated in 2020 and is strongly boosting at-home consumption. 
Consumers have started to prefer healthier food options to exercise routines and products to reduce stress and/or improve sleep quality, they are all part of how the world is coping with anxiety related to the political-economic-sanitary situation in the globe.
Smart home appliances, sports equipment, and training machines will continue to grow globally especially in the American market, all aided by the forced adaption to e-commerce and digitization.
Consumers perception changed- Impact on 2022 denim fashion trend
The pandemic has opened Latin American consumer's eyes to dress codes and the perception of well-being being associated with appearance, which is most likely here to stay. 
Smart casual denim will gradually replace the raw denim fabric, except in more traditional businesses, such as finance, IT, and/or law firms, ignited by the increase in work from a home lifestyle change. The trend is more appropriate especially in younger segments, Millennials, and Centennials primarily.
At the same time, the increasing relevance of comfort while the uncertain financial condition will lead to the search for a cost-effective solution in the region will continue to drive demand for the functional and technical characteristics over aesthetics- transforming into more simple, versatile, and casual styles. 
Raw denim has become an important trend on catwalks and trade shows. Influenced by this pandemic, people's demand for comfort drives suppliers to create soft and stretchable raw denim. Wide-legged casual style Jeans fashion trends will dominate in 2022 built on soft and supple modal denim fabrics.
The new Tye and dye techniques also allow the wearer to produce a faded look. The denim manufacturer Lenzing's new sustainable denim collection blends denim with Tencel and Tencel x Refibra. ORTA's Trutech denim emphasizes soft stretch along with a cashmere blend. The fabric is pre-treated to ensure lower shrinkage during wearing.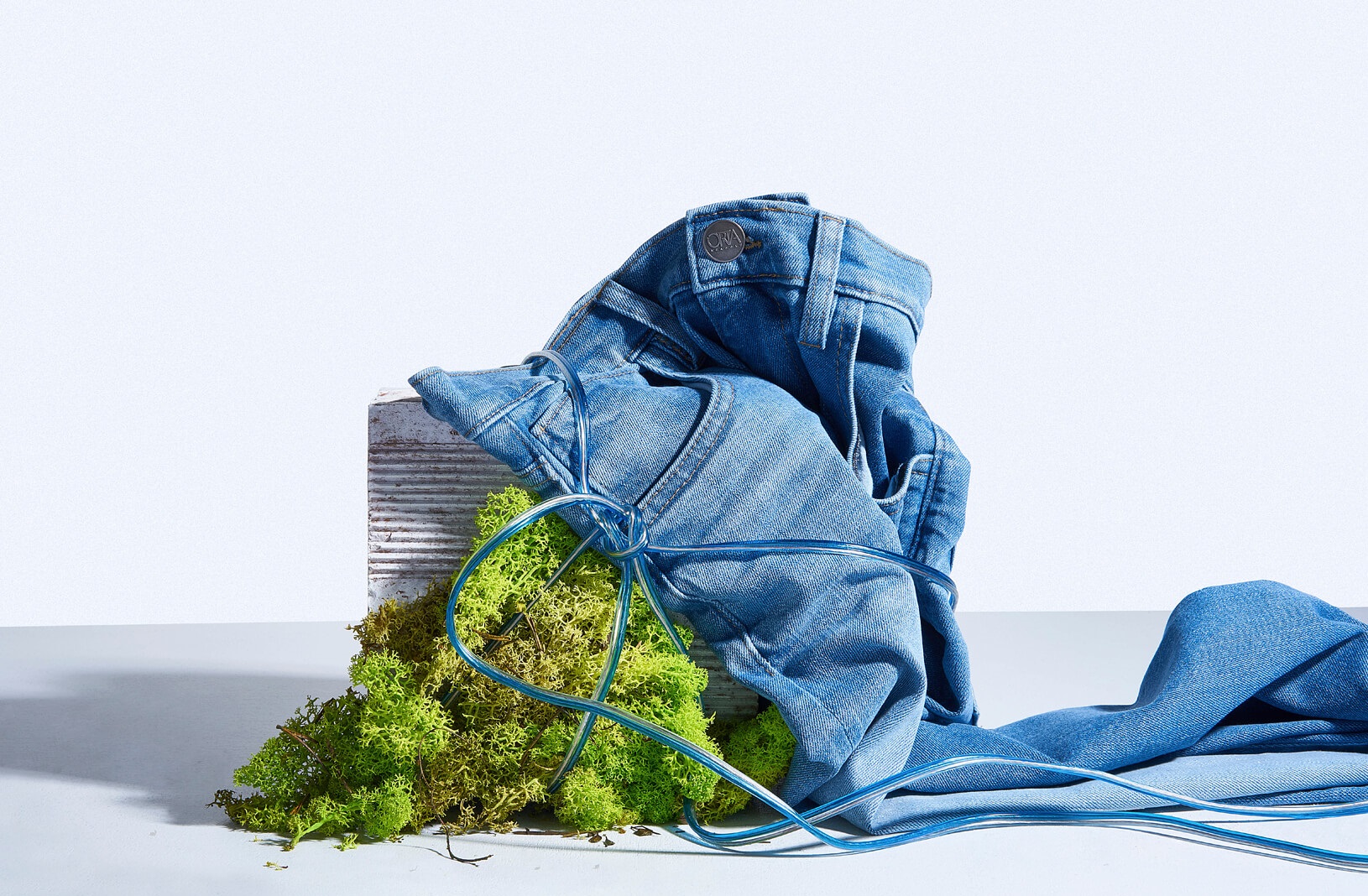 ---
Rise of sustainability and cotton as a key fiber
Genuine denim is unique because it can change and fade as it ages; in doing so, it reflects people's lives. With such broad appeal, it makes sense for denim to be at the forefront of the Spring 2022 fashion scene, but is sustainability leading the denim trend?
Denim fabric itself carries the importance of sustainable development. Reducing the environmental influence and wastes and strengthening the eco-friendly performance are the main directions for developing S/S 2022 denim fabrics.
The post-finishing of eco-friendly denim mainly presents on the textures this season; raw denim is used to develop casual business items, such as the look of Max Mara; colored denim is loved by consumers for its dazzling hues and liveliness. Influenced by the feminine trend of denim, beads have been applied more on denim.
It's noteworthy to recognize key s/s 2022 denim trend  at the season's runway, Celine, Balenciaga, Kenzo, and Valentino are all selling 100% cotton denim.
Xuly Bet, who is well known for its ability to take recycled clothing and create high fashion, uses 100% and recycled cotton in their work and has been a long time supporter of sustainability in the fashion industry.
Among the top designers Mara Hoffman and Greg Lauren, whom are both noteworthy for their innovative sustainability initiatives. Greg Lauren also brings home denim patchwork. Labels this season also paired their cotton poet blouses with cotton denim. The possibilities of denim are boundless, but this era gives the fabric an added environmental edge.
Key details>> Bubble sleeves
Bubble sleeves started to pop up In the fashion weeks since from last few season and gradually started to get into the denim category spotted in S/S 2021 denim trends. Special decorative details on the shoulder and shoulder pads make the look powerful. This season designers pair denim with waist details to accentuate female form. Denim also brings a relaxing feel to suit-style outerwear.
Key details>> Multiple pockets
Multiple pockets, 3D pockets, structural pockets and layered pockets add highlights to denim and renew outerwear and trousers, quite decorative. Therefore, clothes are practical and aesthetic.
Style of the season>> Kimono jackets and jeans
Dior added the Kimono Jacket and wide legged relaxed denim pant for the season using soft denim fabrics
Color of the season>> Pastel
Pastel colors aim to bring optimism to this turbulent era. Pastel colors including meditation light tones, healing and ice cream tones will keep prevailing in the post-coronavirus era. GOTS certified cotton and blends of recycled nylon fibers work with low-impact print and dyeing crafts to create aesthetic and eco-friendly items.
Fresh style>> Paneled denim
The biggest 2021 denim fashion trend that will be everywhere is the paneled denim style. As we have seen colorful panels look in the Mugler's runway collection. Apart from Mugler Gucci and few other designers also created the colorful panels.
Catwalk S/S 2022 Denim Trend- Casual Vest
For S/S 2022 Relaxing & minimalist; casual raw edges and layers will dominate the consumer's desire for the free and spirited attitude at the time when the intense desire to break silos is dominating.
Denim S/S 2022 Prints- Graffiti
 Hand-painting; childlike brushstroke; fresh colors will remind us for the better time. Invoking our childhood and playful mood for the S/S 2022/23 season.