Why brands must learn body positivity is for all the shape and size?
XS- Xtra Small and Extra Extra Excluded. This size was, will never be and has always been sidelined, every time, everywhere. Be it models in the beauty industry or fashion. To top it all the biggest problem is when XXS women can't find their size. Weren't there enough size charts to confuse us all?
First, it was divided categorically among the countries, which almost seemed like a tug of war but now it has even sprawled across many other designers. And thanks to a lot of people who have finally made a letter of inclusivity towards XS OR XXXL now, but a lot of it remains deep-rooted in the cause of "trying to fit in", wherein they have tried to fit just into the social media parameters that a brand today needs to basically have as a necessity.
On one hand brands have campaigns, directing all towards body positivity but on the other hand they are just bothered about an image of a so-called healthy posts and articles which just grew from this idea of self love, while we (XS Excluded ) have been trying to make phone calls to customer care explaining size XS has variants too, because guess what, we were not asking how to be born perfect with good height, breasts, and body, we just want to wear clothes our zie and stop compromising. 
But as a brand, if you are a brand, you should have inclusivity at all costs. Inclusivity doesn't just end on sizes, inclusivity ranges to deep-rooted problems that are meant to be solved. It also means inclusivity in other accessories such as innerwear, footwear, and even sunglasses. Very few brands like Rayban have managed to create an inclusive design pertaining and specifying according to the face cuts and even the size of the face, where and when it's required.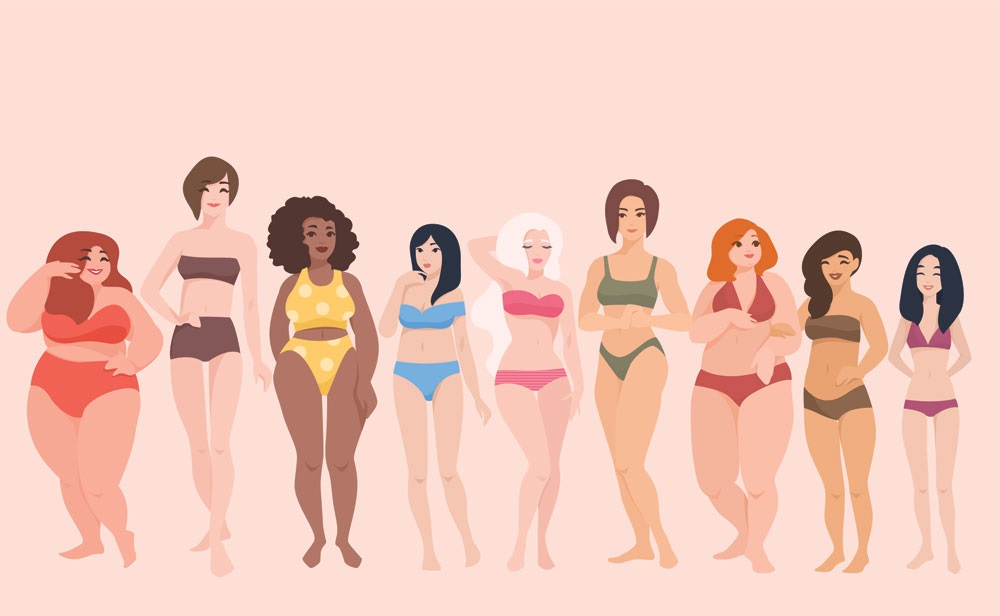 Sizes and lengths change over time. A size XS can become XL because of the body changes simultaneously remaining constant too. Nevertheless, the brands should maintain their sizes intact. I am speaking on behalf of all the women who feel this too. Not even size 3 or 33 in shoes fit all and then we have to spend a surplus extravagant amount on the costlier brands. My question is? Why? Why do I need to become exclusive regardless of my size? Why do I only have to choose a bralette over other bras? And if supposedly I do get a bra, I am limited by patterns, prints, and designs that every woman loves to include in their collection.
Consider this- We only consider sizes in four different parts of the body, while we all like to wear accessories too. But we hardly care to consider the size of our wrists when we are buying a watch, the right size of shoes, or even the size of our socks.
I have had many sportswear shoes all holding account of a good brand as a reputation but even their smallest size doesn't fit me and the blame is launched at the customer for not fitting in with the European or the US Standard Size Chart. I ask since when and why did the Indian market start to follow the European standards of measurements?
Indian body types have always adhered to petite type with which they were very happy and had no problems. Despite this, some women have been blessed with slim bodies that accommodate their breast size adhering to a size 30. Despite that, the marketers couldn't target this problem which then boomed to today's era where this exclusivity got engulfed in the body positivity movement so much that people started to modify their natural body instead of embracing it. And as a lady like me who loved to, and still loves to go beyond her lengths to buy beautiful lingerie, experimented. In her experiments, she discovered lots of problems and fewer solutions.
One problem particularly was that although there were some better designs than she wanted, they had been priced very highly. To invest less than $60 in a nice piece of just simple light bra with barely one thinnest layer of lace seems way too unrealistic.
The second problem was that she did eventually discover what she wanted but via online websites. Now as much as today anyone likes shopping online, let's be honest that some items such as lingerie and panties cant be bought online. This is because the size guide usually on these websites are still of European standards while we are Indians. Ha! And again not to mention, going to stores seemed too much to go to lengths for a bra because the stores were foreign rather than indigenous, hence again limiting.
Third problem that became more of a hurdle was that, despite her indefinite list of keywords, she is and was constantly redirected to the pages that had sellers desperately wanting to make money by manipulating a customer to buy the last piece that they had and also a yet pricy and unfit one and that which they had been trying to sell for months.
These are the very own problems faced by not just her, but many women of all shapes and sizes. Brands need to boost up their R&D when it comes to sizes of all kinds and needs to make major changes for size XS.