Vancouver fashion week S/S 2020 final day trend
Summary
Sunday, October 13th, 2019 – Vancouver, BC – Sunday night runway was filled with an air of mystery as beautifully gothic and eclectic designs helped the finale night round of a strong selection of design talent. From moody, juxtaposed color palettes to stand-out craftsmanship, the runway this SS20 season will not be forgotten quickly.
EVAN CLAYTON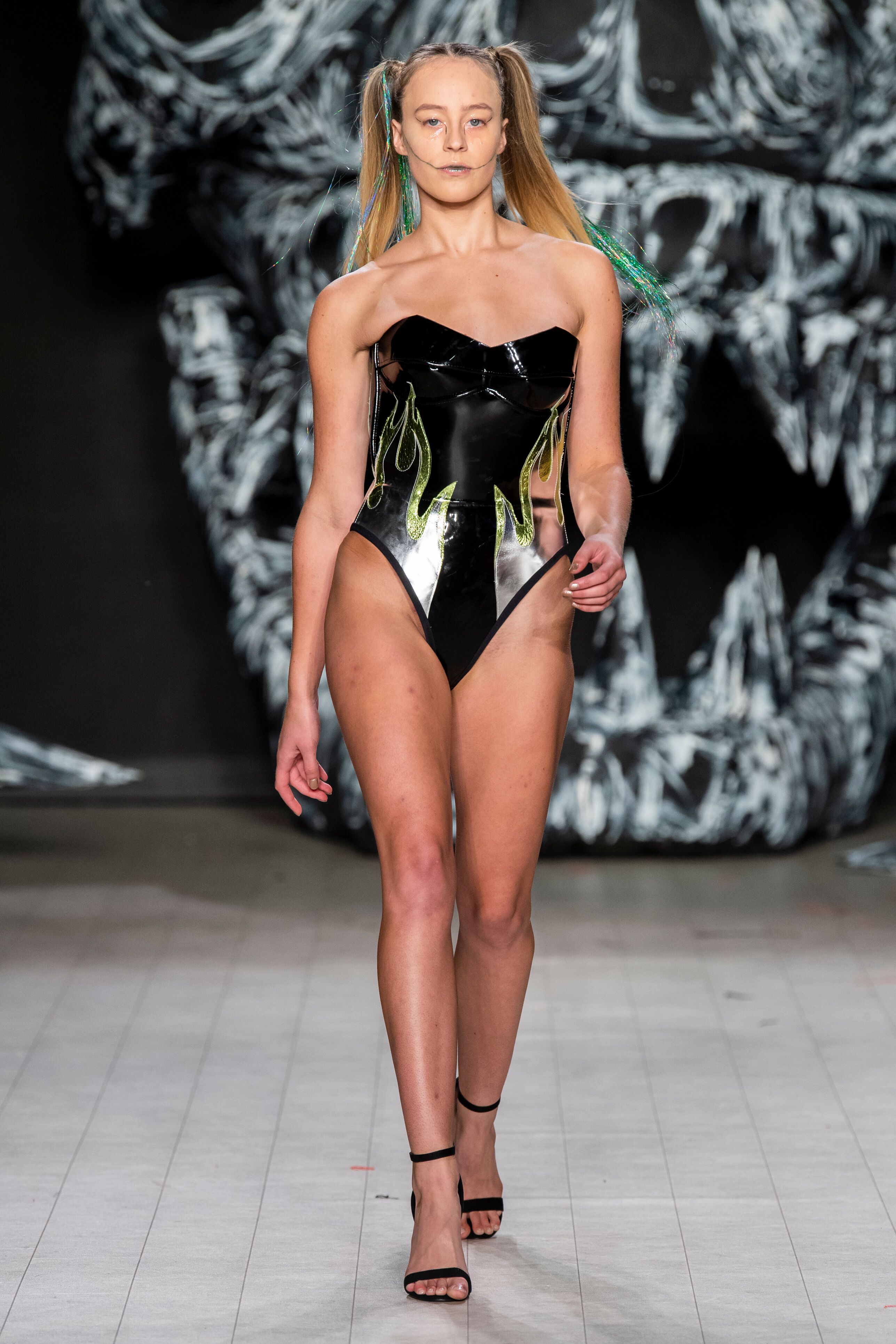 EVAN CLAYTON opened the last day of Vancouver Fashion Week with his latest collection, VILLAIN!. Clayton is known for his campy aesthetic, artistic and political pieces, experiential runways shows, and international appeal, having been featured in Vogue UK, Korea, and China. VILLAIN! is an exploration of the designer's inner madness.
Models walked with pigtails and sparkling streamers in their hair, sporting an assortment of black and green garments including chaps, crop tops, bodysuits, berets, dresses, and gloves. Clayton's designs featured studded and glittered fabrics, neon green camo prints, and layered black and green chiffon cascading down the backs of gowns.
The final two pieces in the collection were two head-to-toe ensembles, one a mossy green and the other a feathery black, reminiscent of a crow and a creature from the swamp. Through these pieces, Clayton brought beauty into his world of villainous creatures. If today's show proved anything, it was that nobody does a camp like EVAN CLAYTON.
Babe & Qiqi- Love Me Love My Cat collection.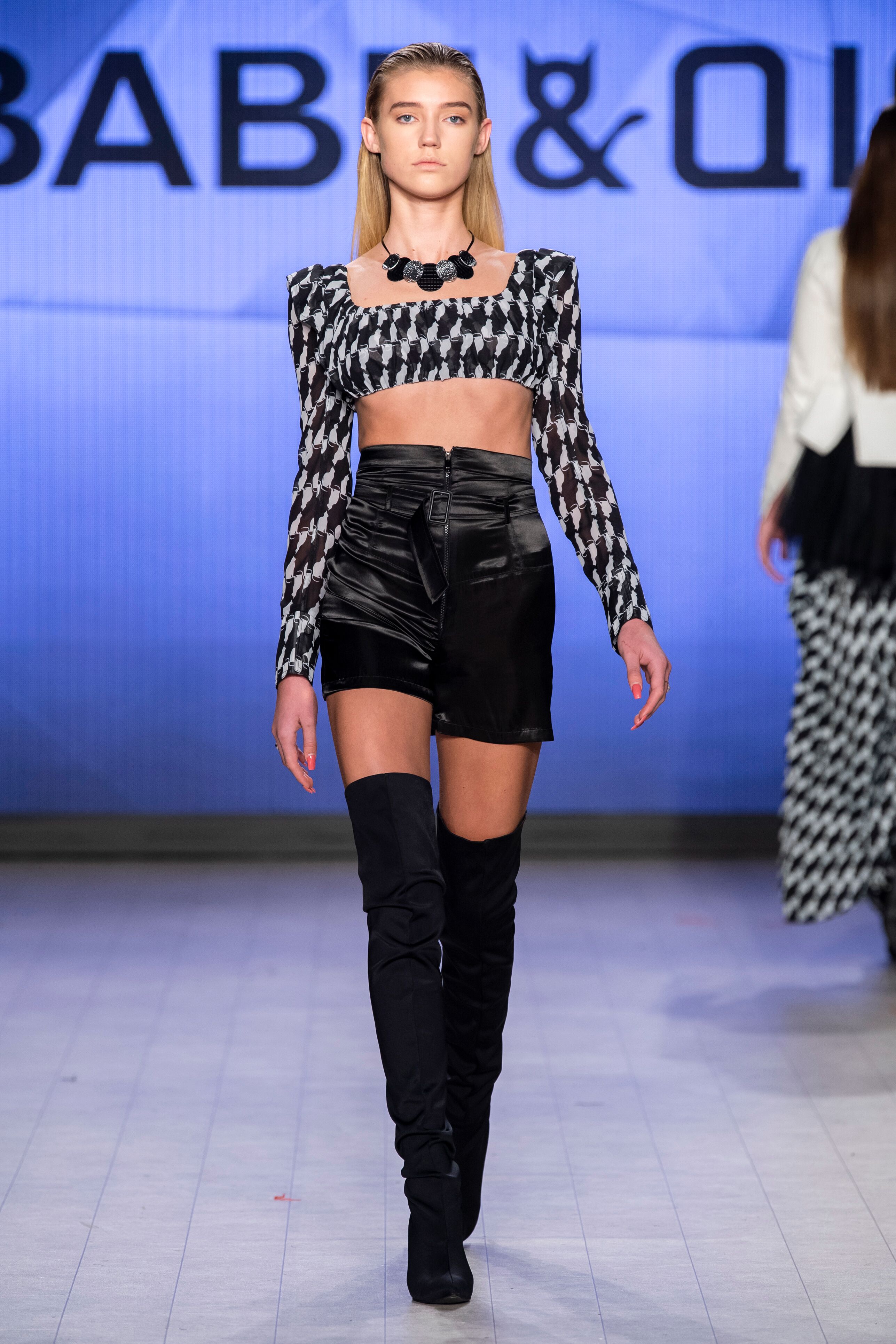 Babe & Qiqi made her debut at VFW with the collection Love Me Love My Cat. A cutting-edge independent fashion design brand named after founder Qi Qang and her cat Babe. Qiqi offered a rebellious, sexy and chic aesthetic with flexible fabric. The color palette was an array of blacks paired with sheer whites and greys. Black and white patterns and balloon top silhouettes rounded out the collection. An offering of contemporary and urban design, the collection was an alluring and mysterious mix. 
Shay Oliver-Evening wear collection
Shay Oliver an up and coming designer from Flint, Michigan crafted a stunning collection of evening wear. Oliver delivered a vibrant and sexy collection defined by plunging necklines sky-high slits and deep plunging backs. A sheer cobalt blue patent backless gown with a deep v-neckline was an absolute show stopper.
Not to be missed or for the faint of heart, a bright neon ruffled piece featuring a thigh-high slit was another stand-out piece. Oliver also showcased a neon print sequined fabric in several pieces in varying silhouettes from jumpsuits to two-piece suits. Sexy and bold, Oliver's daring collection is not for the demure wallflower. Consider sexy back. 
Skeleton Key Couture specializes-Obsidian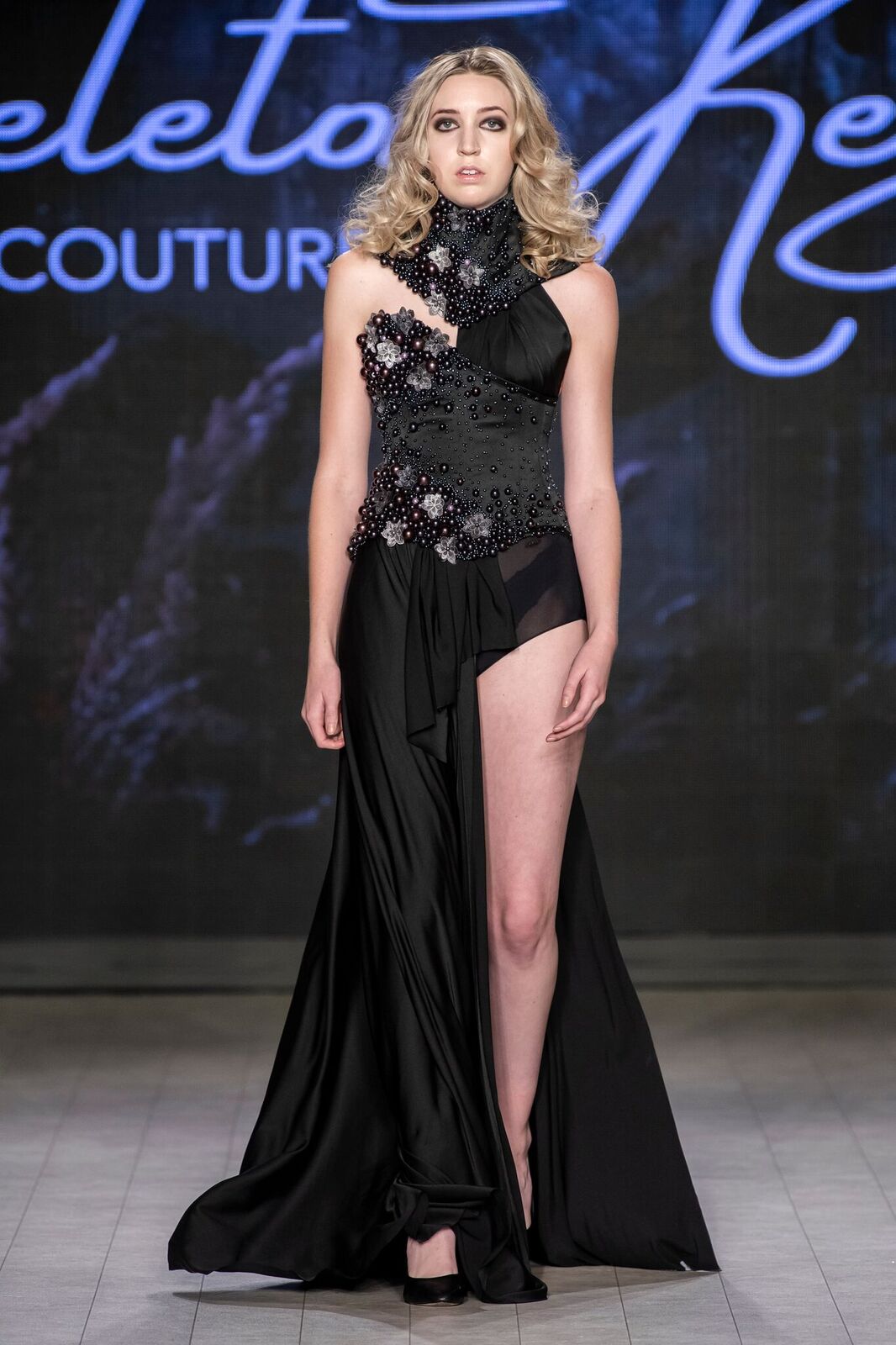 Skeleton Key Couture specializes in custom made evening wear and corsets. Their SS20 collection, Obsidian was inspired by the quick cooling volcanic glass for which it is named. The collection, made of fine satin with hints of mesh. The beautiful gowns and corsets feature extensive hand beading and sparkle intensely under the lights.
The Obsidian collection features pieces with boning in the skirts, creating a beautifully structured look and lending the collection a Victorian feel. Otherwise monochromatic, the black and silver line features key pieces with red and burgundy details, reminiscent of the volcanic glass which inspired designer Jessica Scholtz.
The uniqueness of Skeleton Key Couture's designs, combined with the incredible level of detail in each piece gives the collection a truly one of a kind vibe, making each piece more desirable than the last. The unique and extravagant pieces of the obsidian collection are beautiful for any occasion.
NON Seyoung Shin- Sleepless collection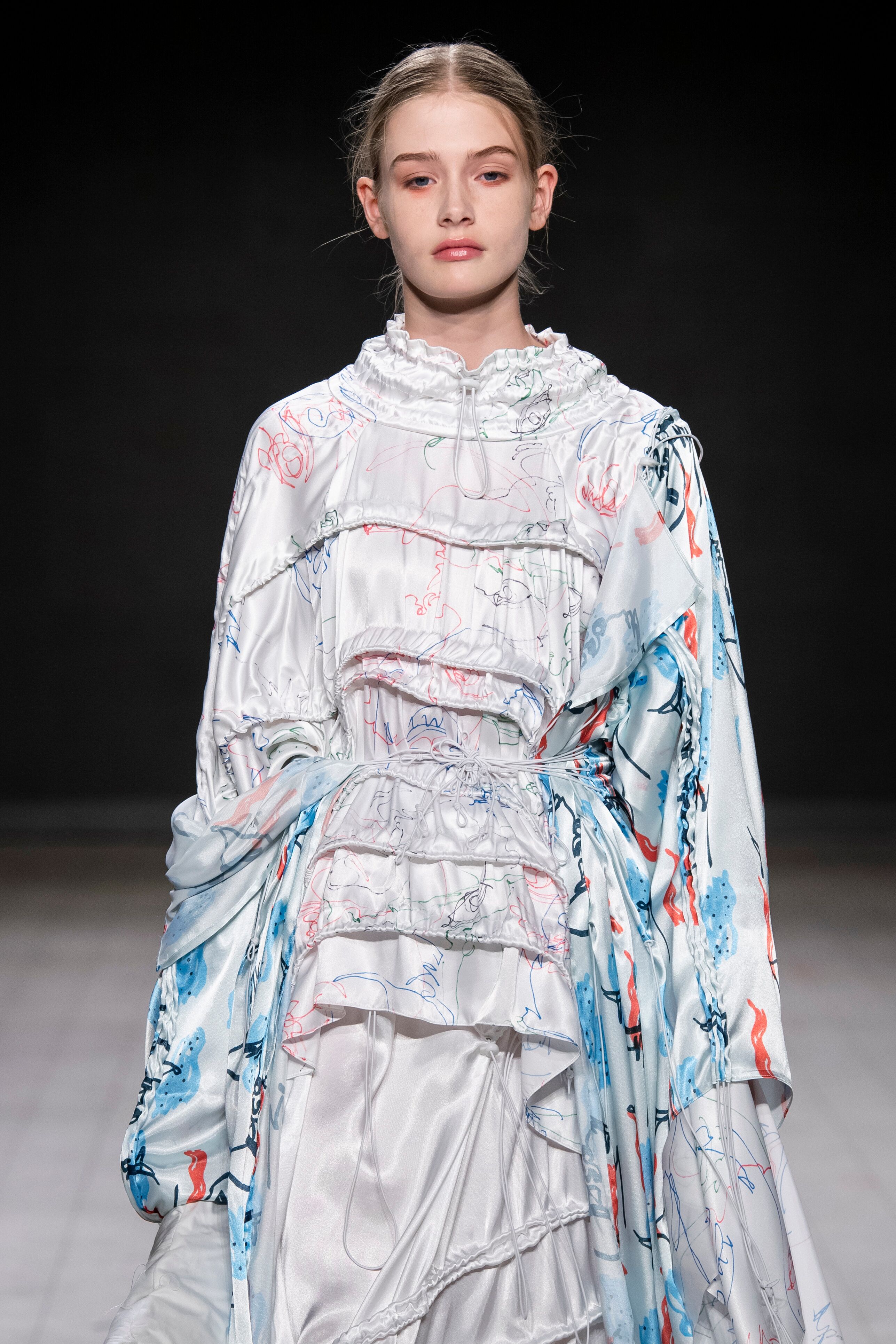 Next, the audience was lulled into NON by Seyoung Shin's Sleepless World, a collection inspired by the designer's own experience of restlessness in today's fast-paced society. NON specialized in fashionable and comfortable unisex wear, which it took to a heightened level in this collection.
Garments were constructed using white materials resembling soft bedding, with nonsensical, pastel patterns sprinkled across to mimic the sense of distorted reality that comes with sleeplessness. Watching the models walk, pillow in hand, in a sleepwalk-like haze in high-necked and hooded jackets created a sense of restless beauty. Tonight, NON by Seyoung Shin delivered a moment of peace and comfort amidst a world of burnout and restlessness.
Deodar- cozy yet functional pieces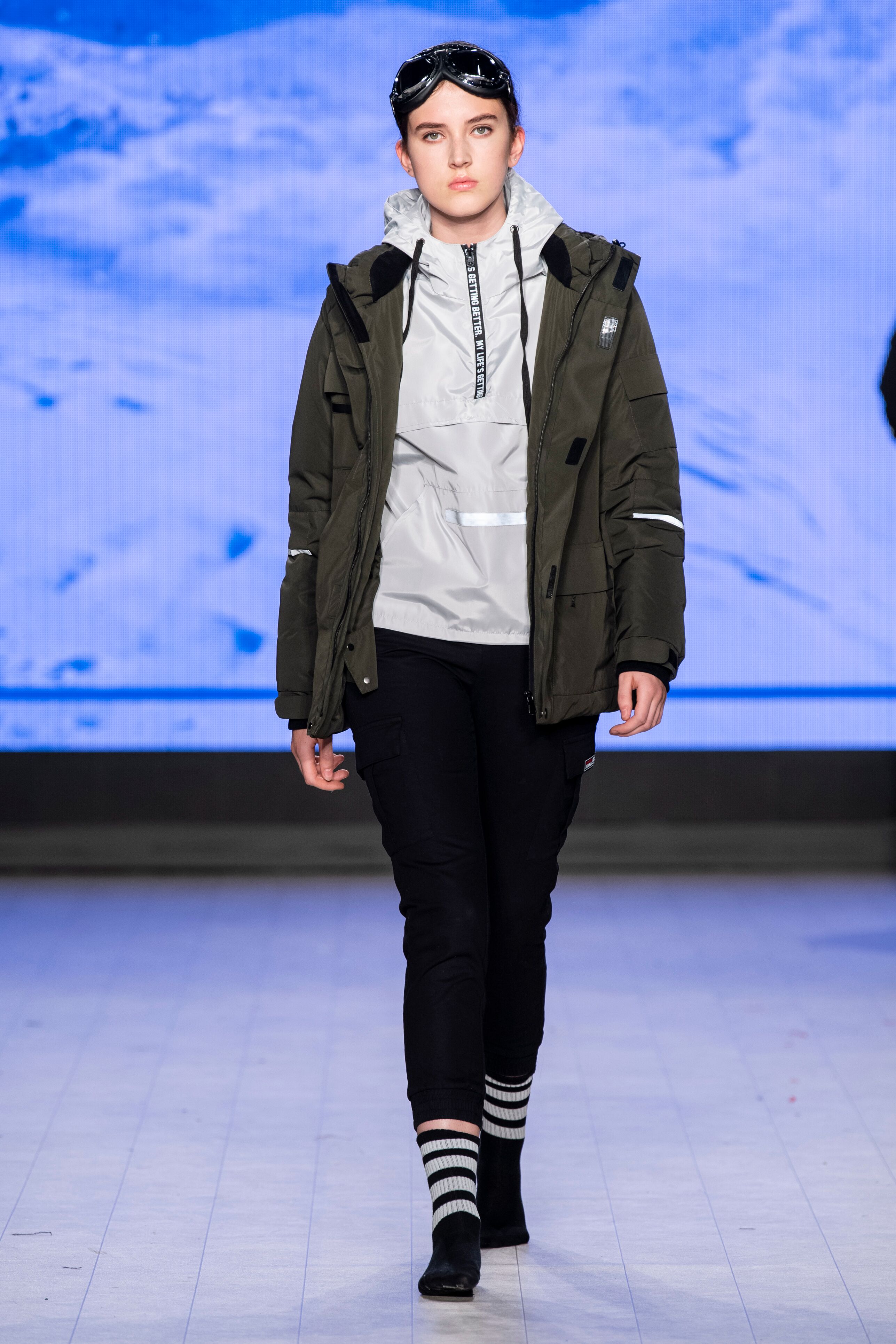 Deodar unveiled their collection Snow against the backdrop of picturesque snow-covered mountains. The runway felt more like a visit to the chicest ski-lodge on earth. Famed for their high quality down jackets, their down feathers are sourced from the largest feather down producer in all of Asia.
Harnessed by the most advanced technology, Deodar featured cozy yet functional pieces in a wash of understated gem-tones that dominated the runway. Timeless neutrals were sprinkled through-out the collection and paired with formal wear. Winter is coming and Deodar's Snow collection has us giddy in anticipation.
LJS Studio- Hollymood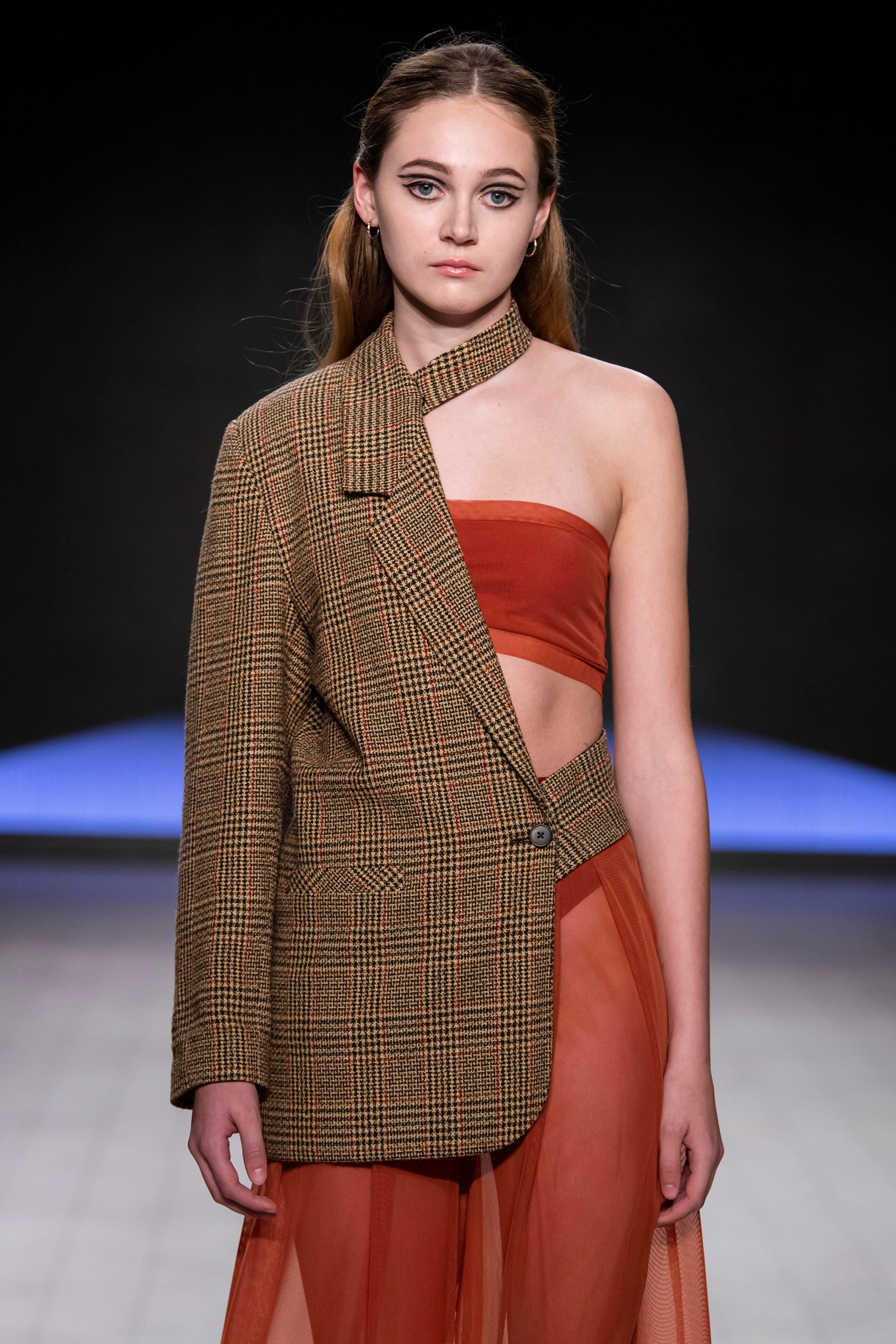 Vancouver based byLJStudio presented the ethically sourced and sustainable collection HOLLYMOOD inspired by the history of "the most notable year of the 20th century" 1969. The collection offers a commentary on the failure of pop culture to focus on the accomplishments of that time.
Lyndsey featured a monochromatic earth-toned palette with a variety of reds, oranges, and browns-- an homage to hippie counterculture, but also the bloodshed of warfare definitive of the era. Lyndsey made use of repurposed vintage garments and used offcuts or textile waste through FABCYCLE. HOLLYWOOD is a vibe-- both past and present. 
FAUN- Sustainable fashion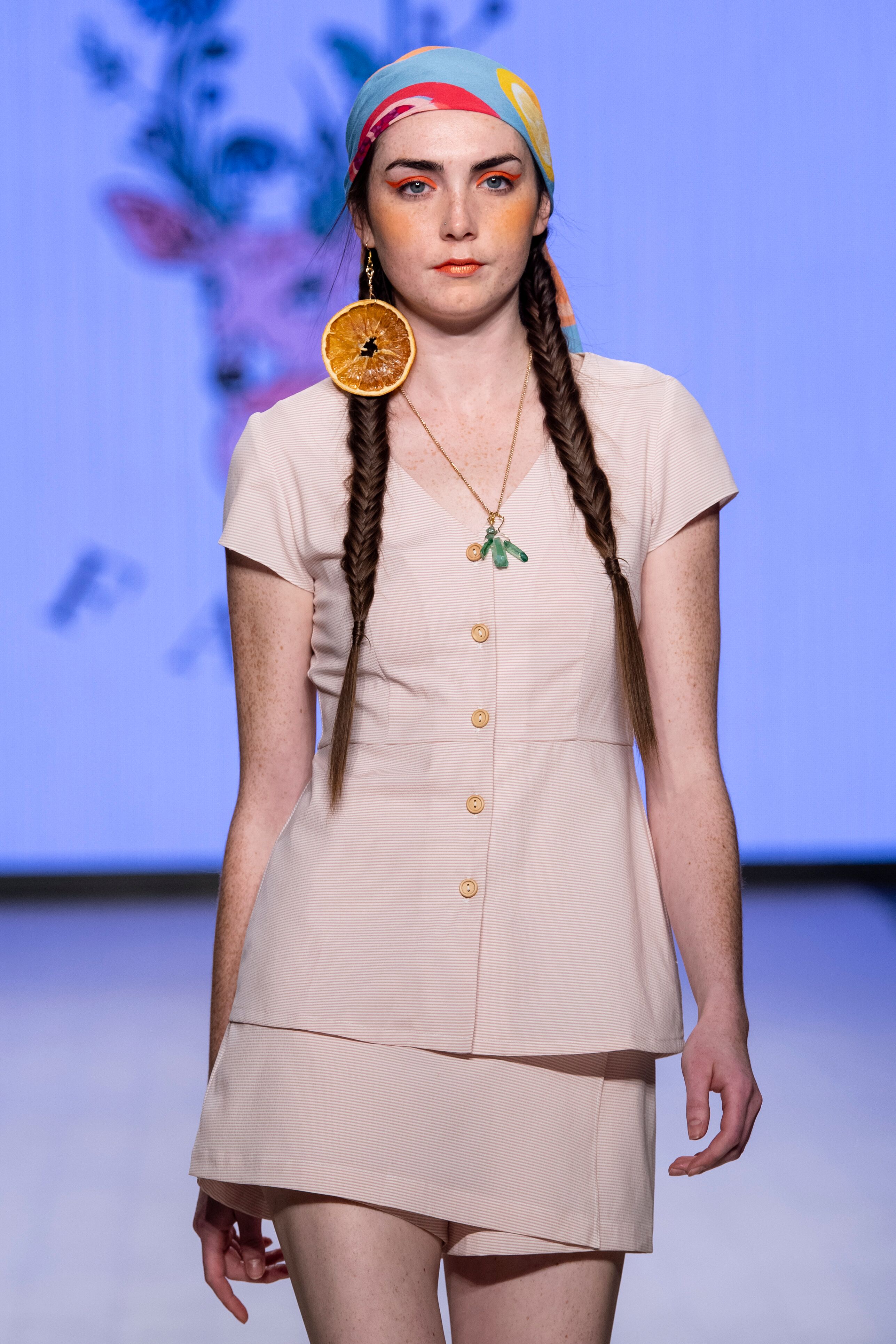 The audience was treated to the delightful, summery designs from FAUN, a contemporary womenswear brand created by Calgary-born designer Marisa P. Clark. FAUN appeared last season at New York Fashion Week and was featured in Elle and Refinery29.
Today's showcase, The Collectors, was sponsored by the Global Fashion Collective to appear in Paris and Vancouver. Disillusioned by fast fashion, Clark created FAUN to promote sustainable development in Vietnam, her mother's birthplace. This collection in particular featured modern silhouettes and tropical patterns with papayas and citrus fruits, inspired by Clark's travels to Vietnam.
It serves as an ode the human condition: how, like travelers, each human is a collector of things, thoughts, and experiences. FAUN's fun and feminine garments featured ruffled sleeves, skirts, and high-necks, making for the perfect picnic attire. With its ability to balance whimsy, modernity, and a hint of nostalgia, FAUN made viewers want to take a bite out of its delicious fruit bowl.
On the closing day of Vancouver Fashion Week, Marronnier College of Fashion Design presenter student designer Kazuki Juri's SS20 collection. Marronnier College is a fashion design school in Osaka, Japan. Intending to feature products that are conscious of nature, the SS20 collection features deconstructed, repurposed men's suits. All of the pieces of the collection employ the use of black, white and grey exclusively and are well structured, like the dress suits they are reminiscent of. Kazuki Juri's use of suspenders and choice of material gives the women's wear collection a school uniform feel. The clever designs serve as a reminder that old clothing is not necessarily garbage, but could instead be an opportunity to get creative. 
Maj-Britt Kreft-  Wanderlust
German designer Maj-Britt Kreft known for minimalistic but lavish menswear presented her collection Wanderlust. The 46-piece ready-to-wear collection combined various fabrics from mesh, chiffon, glossy vinyl and silk allows. Wanderlust featured hyper-individualistic and creative looks.
The color palette starred blacks symbolizing functionality and refinement, while greys symbolized a descent into the murkiness of the unknown. Peaceful blues and strong silvers accentuated the color palette. Wanderlust challenges us to break free from the monotony of everyday life and to harness one's emotions as a vehicle to create a unique style that is your own. What is known is Kreft showed expertise in distinguished and functional menswear. 
Desiree Riley
D'ezir is a fashion line started by Desiree Riley. In 2018 Riley partnered with Joshua Davis and since then the two have worked to design the line together. D'ezir's SS20 collection is an extravagant display of color, tulle, and beading. Many of the brightly colored pieces are accented with mesh and ruffled sleeves. The line features beaded detailing and bold bright colors.
Featuring pieces from pants suits to ball gowns, D'rzir's SS20 collection has options for every outing from the beach to ball. The whimsical designs are beautiful and elegant while the ruffled tulle accents make the collection feminine and fun. The inspiration for D'ezir comes from the founding designers' style, making the collection undeniably unique. 
Where the Wild Things Are--a collection by PAINTERS, is a call to action to accept one's identity. PAINTERS played with different shapes that are not influenced by conventional tastes or trends. The collection had fun with textures and silhouettes that drifted away from traditional norms. Cutting edge, sharp and hyper-focused-- Where the Wild Things Are was an awe-inspiring visual masterpiece challenging conceptualizations of traditional forms in womenswear. 
Haus of Zuk - Inspired by Drag Queen
Concluding Spring/Summer 2020 of Vancouver Fashion Week was Haus of Zuk. Heavily inspired by drag queens, cosplay, and video game culture, Haus of Zuk designs fantasy creations with child-like characteristics. A trailblazer in the LGBTQ2A+ community, Haus of Zuk's designs are breaking the status quo of menswear, balancing puerility with sultry, hyper-specialized silhouettes.
Its latest collection, FLETCHER, made its mark with animal bone masks adorned with bright flowers, sparkling black tights, and ruffled pastel layers of creamy fabric and chiffon. Padded shoulders and buckles added a masculine touch to the playful figures. From the birds to the rabbits, to the wolves, Haus of Zuk made the audience go wild, and was a perfect conclusion to this season at Vancouver Fashion Week.