Engagement Ring Trends That Will Rule 2023
Summary
The wedding market is evolving, and brides are regaining control by choosing more sophisticated jewelry designs. When it comes to wedding jewelry, couples are going with their instincts; expect grandiose styles not only for rings but also for all bridal-related trends. 
The hottest engagement ring trends for 2023 have yet to be revealed, but we can tell you what isn't on the list: plain old solitaire rings. There are so many great options out there, from imaginatively designed bands made of various materials such as rose gold- or silver-plated steel to designs with cultured gems that add an extra glitter when light hits them at just the right angle - and those are just two examples among many.
Scroll down to see the top engagement ring styles you'll want to get your hands on or wear in 2023, from halo bands with pave diamonds to colorful gems with sapphires and emeralds. 
Oval Cut
Ovals are a symbol of eternity. These lovely gems come in a variety of shapes and sizes, but we're focusing on oval forms like those seen on Hollywood stars like Blake Lively and Hailey Bieber. 
The oval-cut diamond has a dazzling form with an elongated design that gives it the appearance of being larger than other carat weights of the same size. The most popular cut is still round (41%), although the popularity of oval shapes has steadily grown over time (from 2% in 2015 to 19% in 2021).
Oval cut diamonds are sophisticated and adaptable stones that may be worn alone or in practically any setting. The finest selections for these diamonds typically have four or six prongs, which elegantly showcase their shape while also offering space for other stones like side stones or bezels around your central gemstone.
Emerald Cut
The emerald cut diamond is a well-known and traditional pattern, with its long straight lines reflecting plenty of light in both square and rectangle shapes. 
This shape is ideal for highlighting the brilliance of your preferred gem when used as an engagement ring, without the large price tag that comes with other stones of comparable size. Reese Witherspoon, Kim Kardashian, Hayden Panettiere, and other celebrities have been photographed wearing exquisite emerald-cut engagement rings. 
This particular cut is great for those who want something different than traditional round or marquise-shaped diamonds.
Customized Rings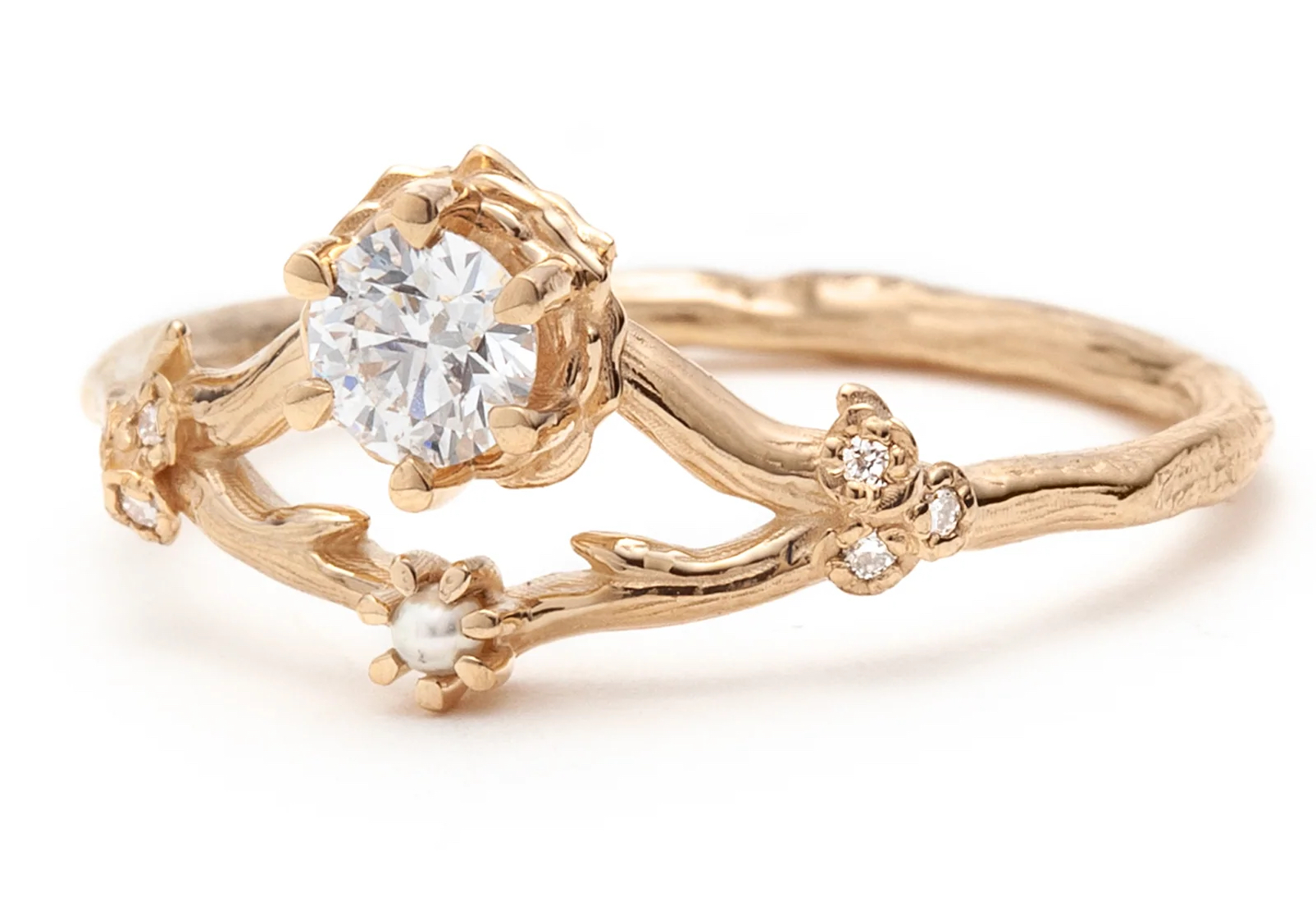 Customized rings are the new trend. Customized rings allow you to express yourself through your jewelry. You can choose the size, color, and style of your ring based on how it fits into your lifestyle or personal style. There are a lot of popular jewelers and websites that give you the option to choose your own style. Here you can design your engagement ring without going by any rules. Just pick what your heart wants.
For example, if you love wearing bold colors but prefer minimalistic design or if you're someone who loves drawing attention with their accessories while being playful at heart, then customized rings will be perfect for you.
 If someone has always dreamed of having an engagement ring with their birthstone in them (e.g., garnet), then this is also possible via customization options available.
Salt and Pepper Diamonds
What is it about salt-and-pepper diamonds that are the talk of the town? Let's list them out. They are not only a more resource-efficient option than traditional diamonds because they are more common naturally and their mining uses a lot less energy, but they are also a magnificent option for a bride or groom who wants to make a statement – imagine tradition with a sexy twist. 
The inclusions that give these diamonds their amazing hue without sacrificing their durability are actually white diamonds. 
Trending Gemstone: Opals
An opal ring has a certain reassuring quality; they have the feel of a family treasure that has been passed down the years while yet being completely contemporary. Opal is an amorphous form of silica that is chemically similar to quartz but contains between 3% and 21% water. Opals of the gem grade typically range from 6% to 10% water.
Opal is an excellent option for the distinctive bride or groom because of its unusual iridescent shine. Opals receive three cheers for pricing and hence accessibility because they are also one of the more cost-effective choices on our list.
Just be careful how you handle your priceless stone because opals are typically more sensitive than other gemstones. You shouldn't let this stop you from creating the ring of your dreams. As with most priceless jewelry, we advise you to take off your opal engagement ring before taking a shower, cleaning, or engaging in other strenuous activities that could damage the stone.
Moissanite, An Alternative To Diamonds
Moissanite is a stunning alternative for the bride or groom who is on a tight budget and is concerned about the environment. Moreover, being eco-friendly is the most popular and valuable trend for 2023. We may argue that moissanite truly originates from the stars since it was discovered in 1893 close to a meteor crater. 
Since moissanite is one of the most beautiful and rare gemstones on the planet, we have developed our invention in laboratories so that it is identical to moissanite found in nature (and much more sustainable). This is your sign, all you "star-crossed lovers" out there.
We hope that you've been inspired by the wide variety of engagement ring trends. Whether you're looking for something new and unique, or just want to keep up with the latest styles, there is a cut and color combination out there for everyone. 
The engagement ring should reflect your personal style as well as the personality of your future spouse-to-be, so don't be afraid to let this decision take some time. We wish all our readers happy shopping.