lakme fashion week day 1 2017
On day 1 of five days of Lakme Fashion week 2017 Urvashi Kaur, Antar Agni, EKA, Dev R Nil and Amit Aggarwal presented their best of the summer collection, taking care of local relevance. To target both genders designers presented men's and women's show together.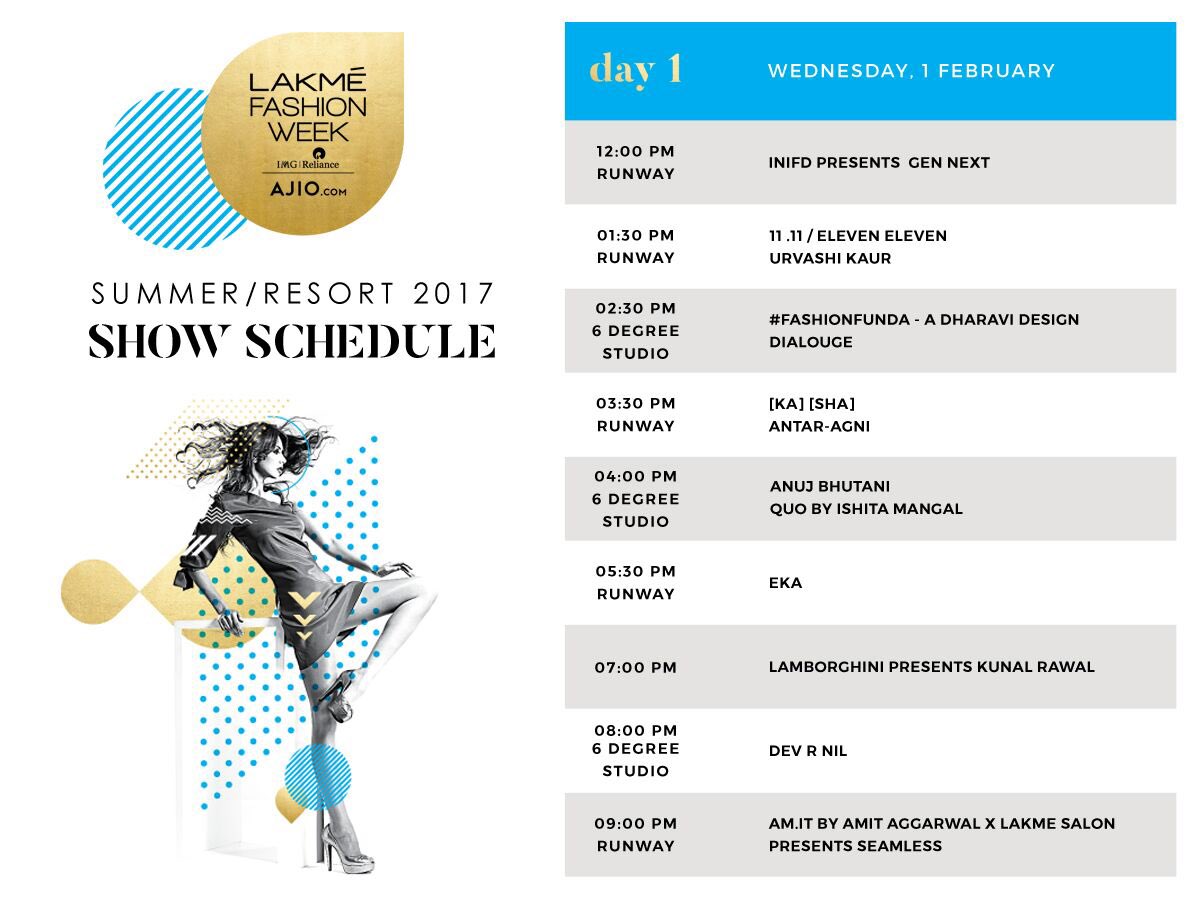 The collection showcased at the runway was all about neutral color, minimalism and featherweight organic fabrics. Silhouettes give free space to allow breath in it.
Pallavi Singh harnessed the power of indigo as her color base along with a fusion of cotton and Chanderi.
Nature being the theme - Nakita Singh started her showcase with black/white creations and used embroidery on natural fabrics like khadi and linen to present a cool summer look.
Poochki focused not only on Indian textiles and handicrafts but also projected their original fauna prints with block carving and printing.
The Pot Plant presented a gender fluid line with anti-fit as the basis of the silhouettes. Using pure cotton in fresh staple shades, the neutral cuts along with hand embroidered floral motifs were ideal for the steamy months.
Soumodeep Dutta showcased an innovative line of garments inspired by sari drapes which had versatile garments' backs often turned into the fronts and vice-a-versa.

Urvashi Kaur - The earthy colors
Pleated slip dresses aligned with soft kofta jackets and overlays, saris paired with kurtas in an earthy color palette were only a couple of the delights seen at Urvashi Kaur's show. The garments were a perfect blend of conventional clothing with a gypsy touch.
She used Behe Riya and shibori techniques, apart from delicate chikankari, for her line 'Vaasa', inspired by her travel experiences to remote parts of India as a child. The highlight was intricate detailing, shibori, distinct Leheriya dyeing and hand block printing with instances of chikankari.
She presented 25 ensembles for men and women. It included tailored shirts, skirts and structured jumpsuits and paneled separates. Layering played a key role
Kasha- The bright colors
Ka Sha kicked off her showcase with looks in dusty purple before moving on to whites tie and dyed with edges of green, blue and yellow. Colourful tassels, ruffles, and crochet flowers were used to ornament the clothes. Her collection brought out joyful summer layering at its best.
Antar Agni- redefining men's wear
Antar Agni's is known for his exquisite men's designer wear. The collection by the designer used staple white, black and beige to create softly tailored looks. The strength of the collection lay in its modern take on Indian menswear.
Amit Aggarwal- the seamless and magnificent
The voluminous silhouettes, the textures juxtaposed and the woven metallic belts for the perfect fit and waist detailing. The belts were also assisting designer to create the hour glass silhouette. Amit Aggarwal breathed new life into old patola saris by upcycling them into new creations. The color palette chosen were bright side of red, deep metallic blue, grays.