The NYFW: Men's Official Schedule -30/01/ 2017
CFDA announces the Men's version of NYFW 2017 show which is scheduled to kick off from January 30 - February 2, 2017. The upcoming edition of NYFW: Men's will feature a mix of new and returning designers.
The venue of the show is Skylight Clarkson North and Cadillac House in West SoHo.
The exciting and noteworthy news is-
Raf Simons brings his namesake label to New York for the first time, showing his new collection on the evening of Wednesday, February 1. BOSS is joining NYFW: Men's for season four, bringing their show to close out Tuesday night.
Also new to the NYFW: Men's schedules are William Watson and Vincent Oshin for Death to Tennis, Steve Aoki for Dim Mak, Alejandro Gómez Palomo for Palomo Spain, Mike and George Heaton for Represent, Christopher Bevans for DYNE, and Combatant Gentlemen. Billy Reid returns to NYFW: Men's closing out Monday evening, and Patrik Ervell returns to show on-site on Wednesday, February 1.
Here is the NYFW 2017 show calender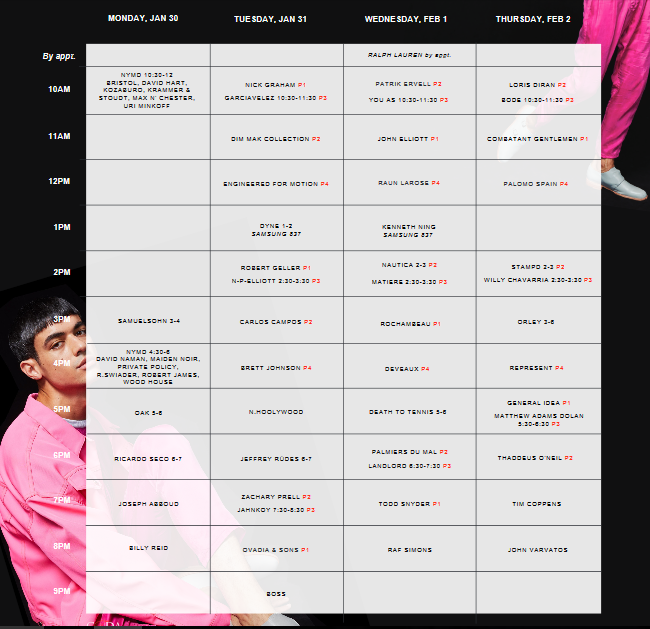 This year five entrants will showcase their collection at the NYFW: Men's Platform 3 emerging designer space in partnership with Samsung: Jahnkoy, You As by Tony Liu, Bode by Emily Adams Bode, Willy Chavarria, and Matthew Adams Dolan. They will join returning Platform 3 labels Matiere, Garciavelez, Landlord, and N-p-Elliott.
How to attend NYFW shows
Fashion weeks are mostly reserved for media, Industry experts, and buyers. However, if you are the blogger, media person, you can attend the show through media pass.
Most buyers and press outlets contact the design houses directly. Bloggers can submit for accreditation to producers like IMG. IMG Registration opens up a few weeks before the events. Several thousand people apply, and only a small percentage are accepted. There's also an application fee (usually around $80), which doesn't guarantee approval. And even in the case, you got an approval it does not guarantee you the entry. It just allows you to submit to the various designers for their consideration to attend shows.
Last year it was proposed to make the show public, the Council of Fashion Designers of America was mulling whether to turn New York Fashion Week into a consumer event, but ticket agents, event planners and scalpers are already giving fashion followers access to runway shows, backstage tours and designer meet-and-greets.
It all comes at a price — usually, a very high price.
According to the report published at wwd-
IMG didn't deny that it might work with some firms to offer tickets to shows but stressed that it doesn't sell them. "IMG does not sell tickets to NYFW: The Shows and the sale of tickets to shows by third-party brokers are prohibited," a spokesman said. "In select cases, we do work with external companies and our partners to create hospitality experiences for NYFW, which may include access to shows at the discretion of our team."