Lakme Fashion Week Summer Resort 2017- Day 2
Lakme fashion week day 2 of the summer resort season 2017, begins with the discussion on how to make fashion sustainable as the wastage caused by the fashion industry is next to oil wastage. The discussion went on sustainable fashion with the panels from Italy, Fiona from Australia, Gaury, Smriti, Megha, Shubhi, Ruchi & Jaya, Rajesh Pratap Singh and Abraham & Thakore to be reassured that these wise artists are up to the challenge of guiding us out of wild lives.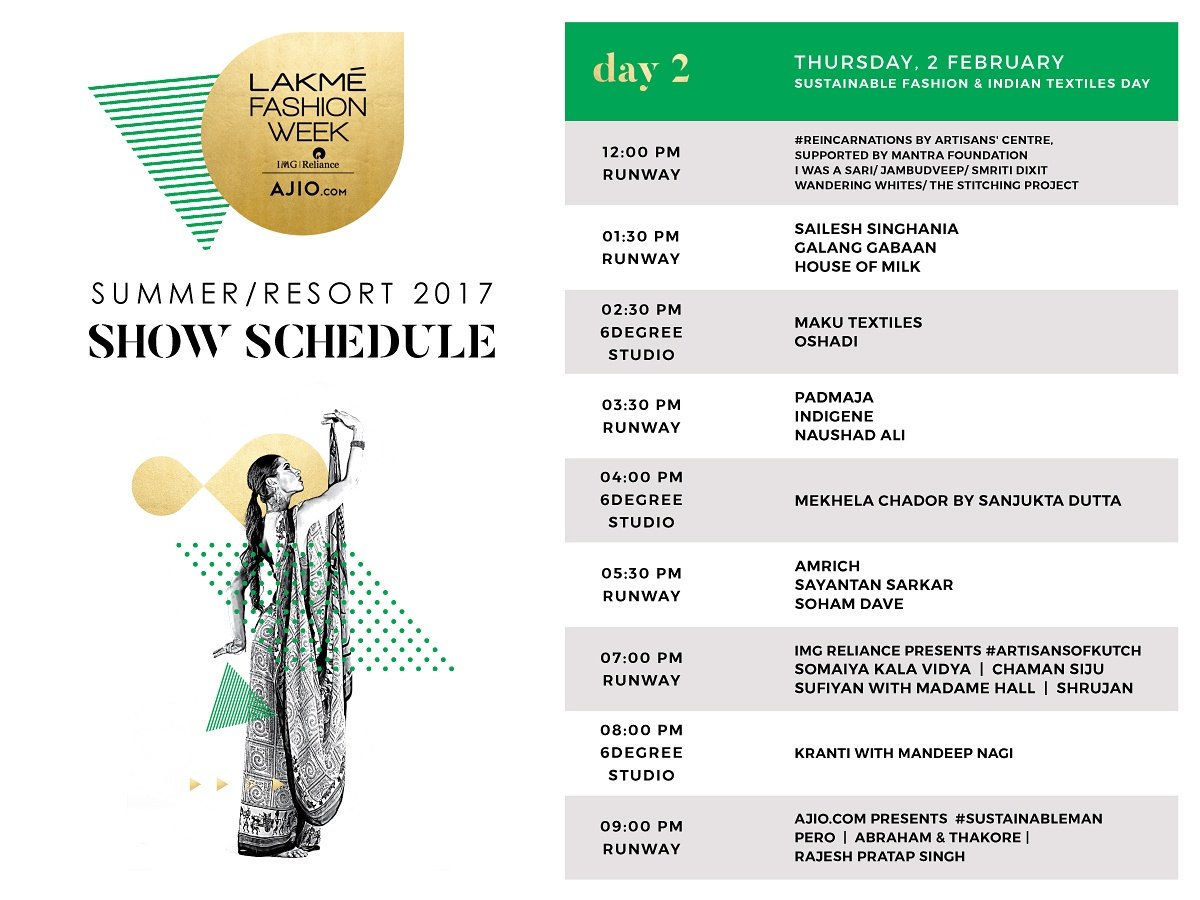 Fashion Industry is second only to Oil in generating waste. Addressing this challenge, Lakme Fashion Week extends the runway to the quiet designers who are showing the clean way forward with repurposing waste and discards without expecting tiniest accolade.
Globally the Denim Industry consumes the gallons of water during the washing procedure. The big brands like Levis, VF Corporation, managed to reduce their water consumption through the sustainable fashion initiatives.
For the day one trend review you could follow this link
The Stitching Project showcased the refreshing line of garments made from recycled, reused, washed and color vintage saris and fabrics in Khadi and block prints.
Taking sustainable fashion as the key issue, created entirely from non-hazardous materials, Jambudweep, handcrafted from industrial waste was designed into Kurtas, maxis, skirts with layered sheer blouses, tunics with pajamas and sack dresses with intricate texturing.
Smriti Dixit presented the collage of jewelry created from fibers, fabrics and unusual objects that she stitched. Sewed, folded and knotted into an exclusive line of jewelry. Trellised ponchos, mesh covers, and embellishments for gowns stood out against the monochromatic color palette.
Combined with brass, industrial waste, and scrap materials, Wandering Whites showcased a fusion line of accessories which included circles entwined around the neck that ended with strings and imposing pendants. Necklace-Cum-Arm ornaments and large necklaces that reached down to the navel.
I Was a Sari - bring its riot of jewel tones as western, contemporary, casual, beach and resort wear. Kaftans had fluid, relaxed silhouettes and accessories matched the look of the attire.
The Sari plush
Sanjuka Dutta brings colorful joy taking care of India's Sari heritage. Colourful, tasseled sarees in a diverse color palette with bottle greens, off whites, bright reds, blacks, and metallics were the key take on the runway during Sanjukta's showcase. The Red and Black were the favorite shades of the designer.
Backless blouses and lehenga skirts added to the festive vibe of the collection.
Preity Zinta walked for the show wearing the combination of lush red and black with Paisley prints over Lehenga.
Sailesh Singhani- Modern ruffle Blouse
The quick things to note in Sailesh SInghania's collection was the ruffle sleeves and sheer fabrics for the blouses aligned with the Sari. The designer showcased traditional jamdani saris, with smatterings of motifs of cows, birds of paradise, peacocks and exotic Indian flowers.