Amazon's new tech- Flying warehouse (AFC)
From checkout less to drone delivery now new thing in eCommerce is flying warehouse. Yes we are seeing another big thing from Amazon this time its flying warehouse. Carried by an airship, the warehouses would visit places Amazon expects demand for certain goods to boom.
Another benefits of the flying warehouse is where some sports events like soccer, Olympic or festivals are happening this could deliver things quickly specially food items.
Amazon air force
Just a few weeks ago Amazon tested its first drone-based delivery in the UK, succeeded to deliver in just 13 minutes carrying the Amazon TV and popcorns. This service called as Amazon Prime Air. Amazon is expecting to launch drone delivery from 2017 in many countries starting from U.K. and U.S.A.
How flying warehouse does work- (AFC- The airborne fulfillment center)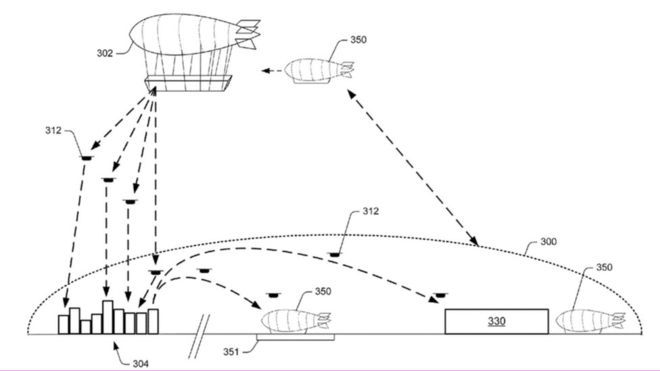 In the documents detailing the scheme, Amazon said the combination of drones and flying warehouses, or "airborne fulfillment Centre", would deliver goods much more quickly than those stationed at its ground-based warehouses.
Also, it said, the drones descending from the AFCs - which would cruise and hover at altitudes up to 45,000ft (14,000m) - would use almost no power as they glided down to make deliveries.
The patent lays out a comprehensive scheme for running a fleet of AFCs and drones. It suggests smaller airships could act as shuttles taking drones, supplies and even workers to and from the larger AFCs.
This is what we can extract from the Patent document
Described is an airborne fulfillment center ("AFC") and the use of unmanned aerial vehicles ("UAV") to deliver items from the AFC to users. For example, the AFC may be an airship that remains at a high altitude (e.g., 45,000 feet) and UAVs with ordered items may be deployed from the AFC to deliver ordered items to user designated delivery locations. As the UAVs descend, they can navigate horizontally toward a user specified delivery location using little to no power, other than to stabilize the UAV and/or guide the direction of descent. Shuttles (smaller airships) may be used to replenish the AFC with inventory, UAVs, supplies, fuel, etc. Likewise, the shuttles may be utilized to transport workers to and from the AFC.
The document also describes- A computer implemented method, comprising: under control of one or more computing systems configured with executable instructions; receiving an order for an item from a user located in a metropolitan area, wherein the item is maintained in an inventory of an aerial fulfillment center ("AFC") that is airborne at an altitude; instructing an unmanned aerial vehicle ("UAV") located in the AFC to engage the item; instructing the UAV to depart the AFC; and instructing the UAV to navigate to a delivery location within the metropolitan area and disengage the item at the delivery location.
[video]https://www.youtube.com/watch?v=zxSycLNM7tk[/video]